NASA's Kelly Tweets to Mark His Final 100 Days
Floating in space for months hasn't warped his social media skills.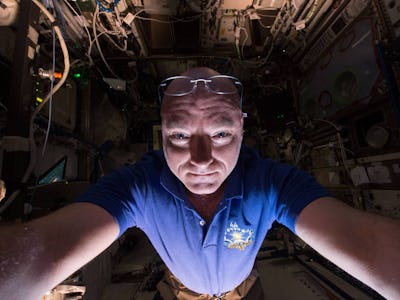 NASA
NASA astronaut Scott Kelly took a moment from his record-setting space mission to tweet home a message:
Captain Kelly—along with Russian cosmonaut Mikhail Kornienko—arrived at the International Space Station on March 27, and won't be heading home (as he just made clear) for another 100 days.
No American has spent as much time in space as Kelly. The former record was 382 days—but once he returns to Earth, he'll have logged 522.
It's part of his mission—the One Year Mission, helping NASA learn more about how the human body is affected by long-term zero gravity affects the body. (Important data to have if earthlings ever hope to travel to Mars.)
Another contribution he's making to humanity: sending us fantastic tweets, like:
Breathtaking spacewalks…
…and incredible views of Earth from the ISS.
And if by chance you haven't watched Kelly play with water, it's time to indulge: