Rwanda's Massive New Solar Plant Offers a Way Forward for the African Country
Called the "fastest project in Africa" the 8.5 megawatt power plant is bringing energy to thousands of homes.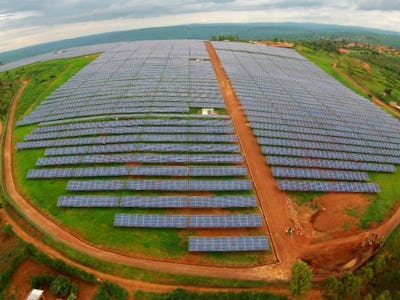 Gigawatt Global
Rwanda was in desperate need of energy. For a population of 12 million, the country only had the capability of providing 110 megawatts of power. (To compare, Israel has a relatively whopping 13,000 megawatts for a population of 8 million people.)
In an unprecedented step for East Africa, the Rwandan government decided in February to partner with international companies and develop funds to install 28,360 solar panels nearly 40 miles from the nation's capital, Kigali. It started operating in July.
Fixed in rows above wild grass, the power plant is designed to resemble the shape of Africa — and is expected to inspire other African countries to develop their own solar initiatives.
The $23.7 million project went from plans to completion in just a year, which argues The Guardian, defied "skeptics of Africa's ability to realize projects fast." With panels from China and inverters and transformers from Germany, the power plant is very much an international collaboration — the joint bid was sponsored by Israel's Gigawatt Global, the Norwegian Investment Fund for Developing Countries, and Scatec Solar, which is backed by Barack Obama's Power Africa initiative.
Prior to the plant, less than 15 percent of Rwanda's population had access to electricity. Now the new solar field, placed alongside the Agahozo-Shalom Youth Village, is estimated to provide energy to 15,000 to 18,000 households. Rwandan experts were hired for the pre-development phase of the project, and 200 local construction workers were employed during its installation.
The project also is expected to significantly reduce the amount of time that locals had previously spent gathering biofuels like firewood and charcoal, allowing those hours to be spent on vocational work and education.
Partners involved in the project hope that this solar plant will significantly cut the environmental impact of Rwanda's previous energy consumption. Currently, 40 percent of Rwanda's energy production is derived from diesel and heavy oil thermal production.
Twaha Twagirimana, the plant's supervisor, told The Guardian that he believes this solar plant could be a positive force for the entire continent.
"We have plenty of sun," says Twagirimana. "Some are living in remote areas where there is no energy. Solar will be the way forward for African countries."