Belgian Twitter Responds to Terrorism Lockdown With Army of Silly Cat Photos
As raids sweep a country on high alert and a state-mandated lockdown, cats are keeping everyone sane. 
by Sam Blum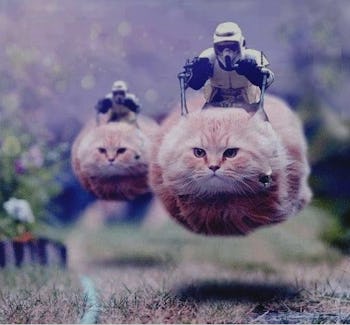 Via Max Seddon/Twitter
After the series of deadly terrorist attacks that throttled Paris on November 13, authorities in Belgium are sweeping the capital city of Brussels with a string of raids, meant to ferret out another potential attack that's been deemed "very serious and imminent," by Prime Minister Charles Michel.
While life in Brussels has suddenly been stymied by a state-instituted lockdown, the Belgian national-consciousness isn't cowering. In fact, Belgians are responding to crisis with a web-centric humor that speaks to the most undeniable trope on the internet: silly cat pictures.
Search for #BrusselsLockdown on Twitter, and among the news articles, you'll find a legion of goofy cats, placed in situations meant to simultaneously mock and throw shade at the threat of terror.
This is what digital solidarity looks like:
The flood of cat pictures came in response to Belgian authorities asking for a social media blackout on Sunday, so law enforcement could ostensibly work on its own to conduct raids without fear of citizen involvement.
It seems though that the internet, in sterling form, did not oblige.