The Sound Orb Is the Tactile Speaker System You Didn't Know You Wanted
Reach out and touch music.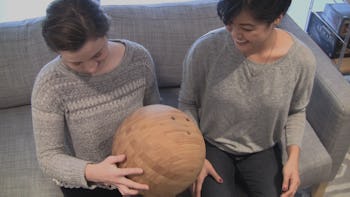 What do you get if you combine two IKEA salad bowls, a tactile transducer, an amplifier, and some elbow grease? No, not an industrial-grade salad thrower. How about a DIY spherical bamboo speaker that thumps and sings? That's a near exact description of composer Albert Behar's Sound Orb, a tactile speaker system loosely inspired by the Orb from Woody Allen's Sleeper.
Behar is also an experimental composer who builds new instruments and reinvents how audiences and performers alike experience music. When he was in school, he wrote short xylophone ditties for a sound sculpture by Trimpin that reacted to pedestrians. He once used a vital sign monitor to broadcast his heart rate to an orchestra, which followed the changing pace of Behar's pulse.
Behar keeps a lot of irons in the fire. He's a classical and film composer who has worked with the likes of the renowned Kronos Quartet and other ensembles around the world. Behar scored an animated short, "Love in the Time of March Madness," that was just short-listed for an Academy Award, and he's currently working with New York City soprano [Ariadne Greif](http://www.ariadnegreifsoprano.com/ on a musical rendition of Guillaume Apollinaire's visual poems.
So the Sound Orb fits perfectly Behar's penchant for the experimental. The Sound Orb is built from two IKEA salad bowls, sanded down and glued together. Inside is a tactile transducer, a device that pumps out tactile bass — the sort that gives the simulated turbulence in a flight simulator a more-than-simulated feel. The whole rig gets hooked up to an amplifier and channels whatever vibes Behar is feeling at the moment.
The IKEA salad bowl version is just a prototype, mind you — Behar has plans for manufacturing the orbs from scratch.
"It's basically the worst speaker you could possibly design in the way you think of traditional speakers, which is, 'Let's isolate the speaker. Let's make sure that none of the vibrations go through the floor or anywhere else except for into the air,'" Behar tells Inverse. "And so with this one I wanted to do totally the opposite. Let's make sure all the vibrations go into your body…and into the floor and have a totally different kind of sound experience."
Here it is in action. All the music in this video is coursing through those bowls and up the wrists and elbows of writers.
Behar has lots of ideas for his Sound Orb. When he introduced it to me, the Sound Orb lead me through a guided meditation. Behar has since presented the Sound Orb at the American Composer's Orchestra's SONiC Festival and to unwitting guinea pigs at the Inverse office. But possible domestic applications have not slipped Behar's mind.
"I've watched Netflix on it," Behar says. "The most surprising thing was not the explosions or the guns…I was watching a drama, and someone shut a door, and it was like KA-CHUNK. I did a total freakout. You're so used to feeling sound, and you forget that so much about hearing is feeling. And it's actually kind of familiar when you feel sound. You think, 'Of course — I'm living in the world where sounds make physical motion.'"
When you hold the Sound Orb, it's a reminder that music is physical, bodily — sometimes you can reach out and touch it.