Watch the 'SNL' Version of Screen Tests for 'Star Wars: The Force Awakens' With Jon Hamm, Emma Stone, and More
Even J.J. Abrams and George Lucas make an appearance! (Well, sort of.)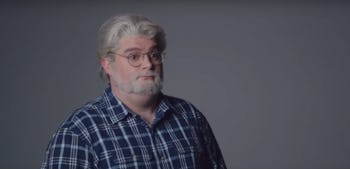 YouTube
Here at Inverse, we've been on top of all the latest Star Wars news — from the newest TV spots to how the BB-8 toy works (spoiler: not well). And when SNL delves into a galaxy far, far away, we're always game to see what they come up with. (Even if it's kind of bad.) But last night's Star Wars skit was good. Like laugh-out-loud funny.
Director J.J. Abrams introduced the skit amidst some sparkling lens flare, telling SNL viewers he thought it might be fun to show us all some of the never-before-seen screen tests from the initial round of casting. (Because we haven't seen enough footage from The Force Awakens slowly trickling out into public yet, right?)
Star Wars cast members like Daisy Ridley and John Boyega made appearances alongside SNL cast members playing celebs like Sofia Vergara, Javier Bardem, and Danny DeVito (who is brilliantly trying out for the part of BB-8). A few stars also showed up (as themselves) faux-ditioning for Star Wars — including Emma Stone (with a great Aloha barb) and Jon Hamm (in his Hamm Solo outfit, natch). And of course "George Lucas" couldn't stay away from the action, creeping sadly in the wings and demanding Coke Zero.
Only 25 more days until The Force Awakens, folks.