European Union Wants to Crack Down on Bitcoin After Paris Terrorist Attacks
ISIS reportedly favors anonymous digital currencies.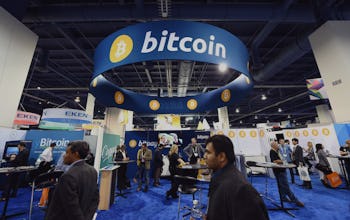 Getyt=
People have been predicting Bitcoin's demise for as long as there've been Bitcoins. The cryptocurrency is labeled as too volatile, or its system's processing capacity is seen as too slow to keep up with demand — or the whole venture is just too damn shady. Could the thing that finally jams up the digital currency be its popularity with terrorists?
The European Union is reportedly preparing to crack down on "non-banking payment methods" in the wake of the Paris terrorist attacks. Members are understandably worried that ISIS funds its plans with untraceable cryptocurrency, a fear that seems founded, as hacking anti-terrorism activists Ghost Security Group claimed to have found an Islamic State account worth about $3 million. Bitcoin's global reach, speed, and anonymity make it perfect for terrorist groups. In 2014, a blog with reported links to ISIS predicted cryptocurrency could be the key to funding worldwide jihad, writing: "This system has the potential to revive the lost sunnah of donating to the mujahideen, it is simple, easy, and we ask Allah to hasten its usage for us."
Restrictions will be discussed at a Friday gathering of E.U. Interior and Justice ministers.