Malkovich Making a Movie That You Can Never See
Well you possibly could, if you're alive and well in the year 2115.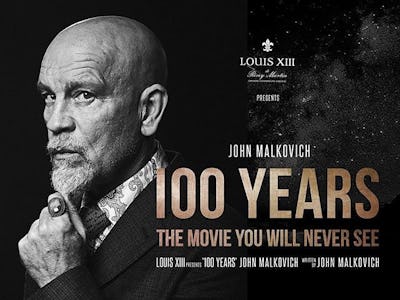 instagram.com/venividivchk
Actor John Malkovich and director Robert Rodriguez have made a film that won't be released until November 18, 2115.
If you're thinking that was a typo a sentence ago, it's not—the pair are working in conjunction with Louis XIII de Rémy Martin, whose cognac is aged 100 years. Louis XIII hired the pair to create a film which, as it touts its brandy to be, worth a 100-year wait to enjoy.
Titled 100 Years, the Louis XIII website doesn't give a synopsis—in fact, no one involved with the movie is telling much about its storyline—explaining that it "envisions Earth one hundred years from now," and confirms it "will not be released in its entirety until 2115."
Also starring Marko Zaror and Shuya Chang, io9 reports Louis XIII is giving metal movie tickets to 1,000 "influential people," asking them to save the tickets for descendants who will be alive in 2115 for the premiere.
Three teasers have been released, each suggesting what the film could hold for its 22nd-century viewers, but none of the trio actually features footage from the movie, which is scheduled to spend the next 10 decades locked away in waiting. The teasers:
For more related material, visit louisxiii-cognac.com or search out the hashtag #NotComingSoon.