House Votes to 'Pause' Syrian Program Despite Obama's Veto Threat
Administration officials call the move needless bureaucracy forced on the most stringent refugee review system in the world.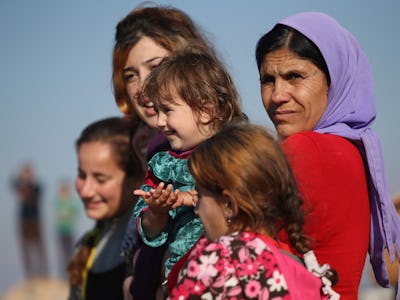 Getty
Less than a week after the terrorist attacks in Paris, the House voted today to effectively pause entry of Syrian refugees seeking resettlement in the United States.
The bill passed 289 to 137. Despite administration officials asking Democrats to oppose the measure, nearly 50 of them still sided with the Republican majority, exceeding the two-thirds majority necessary to override a veto.
The bill would require that several top government security leaders all confirm Syrian and Iraqi applicants are not a threat to all 12 congressional committees. But as it fails to spell out exactly how this process should be carried out, the bill essentially halts the program. Refugee applicants already go through more than 20 security checks.
The bill did not include a religious requirement that applicants prove they were Christians, as some had feared. (Republican presidential candidate Jeb Bush says he'd welcome only Christian refugees.)
This represents Representative Paul Ryan's first big victory since taking over as House Speaker last month. Ryan escorted the measure to a vote with what amounted to lightning speed in an institution lately known for plodding along. Whether it can pass the Senate, where there is a Democratic majority, is less certain.
In the run-up to the vote, opponents, including Representative Nancy Pelosi, called it a "betrayal of America's values" and the best recruitment campaign ISIS could hope for, weakening the United States abroad.
And more than that, that it was a mess of needless bureaucracy tangling what's already the most stringent refugee application process in the world.
Speaking on a conference call Thursday afternoon as the House debated, an at-times audibly exasperated group of Obama administration officials tried to explain the dozens of checks already being performed at every step of the application process, from U.N. investigations to scrutiny from America's most highly-trained experts.
Audio of the call begins at about 32 minutes in:
Refugees are subject to a host of security protocols and interviews using virtually every intelligence database this country has. They're checked by specialists in fraud detection and prevention who are experts in the condition of the country they're trying to flee. Refugee officers undergo more training into the populations they work with than any other immigration specialist. They're photographed and fingerprinted and have their records checked against the FBI database and DHS database and watch lists and any previous encounters. Then the Department of Defense has a look at them. They get last-minute screenings vetting them all over again before they're even allowed to leave their country. When they do finally make it here, they're inspected all over again.
And that's after the U.N. refugee agency.
"They look at the small fraction of refugee applications from the people who make the most sense," said Marie Harf, Senior Advisor for Strategic Communications at the U.S. State Department. "Victims of torture, widows with small children, people with medical issues. These are the people most disenfranchised and most hurt by these conflicts."
"I am more than a little disappointed to see the rhetoric the last few days," she said. "An important message isn't just living our values at home, it's practicing what we preach around the world."
Some 30 governors say they oppose allowing Syrian refugees into their state, although they have little official power to actually do anything about it.