Medical Marijuana Prescriptions Online: New Site Uses Video Consulting
HelloMD is a pioneering digital healthcare platform that might set a precedent for the medical cannabis industry. 
by Sam Blum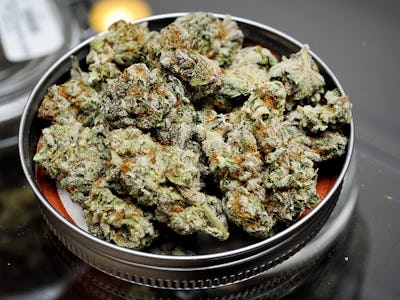 Dank Depot/Flickr Creative Commons
In California, where brick and mortar cannabis dispensaries have been permitted to sell pot since 1996, its assumed ubiquity has sewn a fabulist notion that the state is an idyllic playground for weed smokers.
True, the golden state has been a gargantuan producer of cannabis for a long time, but medical dispensaries don't necessarily clutter its landscape. There are between 500-1,000 dispensaries operating within California, generating a reported $870 million to $2 billion in economic activity a year — which is a windfall, especially for an industry that's been shrouded in stigma.
Now, online startups like HelloMD want to be the ZocDoc for weed, connecting people who might be helped by medical marijuana with doctors who can prescribe it. In the advertising language of the company: "Join and get a Doctor recommendation for medical marijuana. Fully Legal. 100% Online. Secure. Approved in 20 mins."
We asked Mark Hadfield, CEO and founder of HelloMD, about his online service:
Inverse: What is Hello MD and how does it work?
Mark Hadfield: HelloMD is a digital healthcare platform for cannabis patients. If you're familiar with the term digital healthcare, it's basically consumers accessing healthcare through smartphones. This is a big trend. If you look at digital healthcare, you'll see that there's Doctors on Demand, there's Health Tap, there's American Well, there's insurance companies that are tying to produce their own versions of it, along with thousands of other startups as well. But there's nobody doing it for cannabis, except for us.
How has technology affected the medical marijuana industry?
There's been a few legislative changes put into effect recently that affect us, but certainly do affect brick and mortar dispensaries. What's changed over the last few years in California is that technology has entered the picture. If you think about the evolution of cannabis in California, what started off as a very shallow industry, with drug dealers dealing directly with individuals, has changed as medical marijuana laws came into the picture. You could get access in a less criminal way. But there's still a great deal of suspicion in the industry.
Lately, it's becoming more and more mainstream, now you see Silicon Valley getting involved. You see start-ups like us that are bringing technology to what was an antiquated, inefficient, and a suspicious industry, and it's becoming much more accessible to everybody.
Just to start with us, you can pick up your cell phone, or start with an app, and you can connect with a doctor for a professional consultation. That doctor issues you a medical marijuana recommendation that allows you to shop and be directed to reputable vendors.
What are HelloMD's competitors, and how many digital healthcare platforms specializing in cannabis are there?
We have a handful of startups that have copied our model that don't have any real scale. I don't want to name them, but that's what's happened recently. We were the first mover in digital healthcare for cannabis patients. Besides us on the market, in terms of the technology side, there's some companies that do have some scale. Like some delivery platforms for instance: One is called Meadow, and it's a Y Combinator company. Also, there's a company called Leafly, which is all about product information and resources. There's a company called Weedmaps, that has a lot of scale nationally, which directs you to dispensary menus and locations.
What's law enforcement's view of what you do?
I would hope that law enforcement's view is that we're a professional, legitimate player that plays by the rules. We've certainly put a lot of effort to make sure we're 100 percent compliant with all of the laws that we're operating under in California, and that our patients, when they go through the process, that they're compliant with the laws, as are the doctors compliant with the laws of the medical board of California.
This is a healthcare trend across America. Twenty-eight states have passed telehealth laws, and they're all about getting people access to healthcare. The law says in these 28 states that if you have a video consultation with a doctor, that's the same thing as an in-person consultation. Twenty-three states have passed medical cannabis laws, but in most states there's still a restriction on telehealth for cannabis. So the laws are in conflict with each other. Not so in California, and not so in Nevada, but they are in the other states. We think it's a question of access.