The Least Plausible Thing to Happen on 'Empire': "My Bad Parts"
The latest 'sode had a message: Drink Pepsi.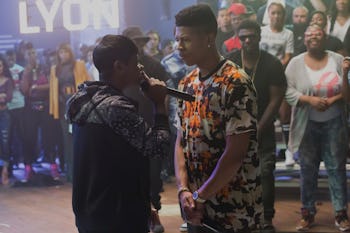 Fox's Empire is the worst, best, most-watchable show on television. Each week we're breaking down the most implausible thing that happened in the latest episode.
On Empire, everything is happening, even though no plot arcs are moving forward at all. These week's episode featured Freda Gatz going full "All Day", every Lyon computer loading full quality video instantaneously despite the fact that the laptop's lid was snapped shut a millisecond before, Anika putting on a blonde wig and driving an Uber, Lucious shouting out "vloggers," Hakeem claiming he's "dropping" his last name which is gonna be a problem at the passport office, Vivica A. Fox showing up to play Cookie's sister, Hakeem saying "en pointe" multiple times, and the show at large taking time to show an in-episode Pepsi ad that is more or less Empire's version of this:
However, last night's least plausible moment happened in the service of another promotion:
Let me come to you from a place of experience: I've been through this custom emoji do-si-do before. That time, I just wanted some of the cute Kansas City Royals emojis that MLB's official app rolled out before the playoffs. Ten app downloads and several newsletter subscriptions later, I feel like it's going to take me awhile to trust the custom emoji game again. I don't trust this, Empire. I've been burned before.
In conclusion, #TeamHakeem.