Last Night on 'Empire' Lucious Raved With Bloggers
A lot of people on this show don't like each other.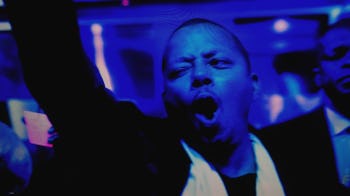 Empire
Fox's Empire is the worst, best, most-watchable show on television. Each week we're breaking down what happened in the latest episode.
In last night's fairly subdued episode of Empire:
Lucious throws a rave-style party for New York City's blogger crowd, where rapper Freda Gatz performs a diss track against Hakeem — and the bloggers drop it on the web for the world to see. Hakeem, insulted, goes online to challenge Gatz to a rap battle.
Lucious and Jamal work on a song for a campaign with Pepsi, but Jamal secretly turns to Cookie for help. Cookie helps, even hiding in the closet when Lucious comes over Jamal's home unannounced. However, Jamal realizes that to create the perfect song, he needs both of his parents to contribute their musical talents. The two refuse to work together, but Jamal ends up mashing parts of a Lucious track with Cookie's ideas, and lands the Pepsi campaign.
Anika finds out she's pregnant by Hakeem. She goes to tell him, but when he reveals he's in love with Laura, she leaves without dropping the new baby news….
Hakeem and Freda get to the battle, with Funkmaster Flex spinning the beats, and the two attack each other with vicious innuendos and slams. Freda seems to have the battle in the bag, but Hakeem comes back with fun dance moves and hypes up the crowd — getting all in attendance back in his corner — and upon seeing his father in the audience flips out and destroys a marquee that reads "Hakeem Lyon," then announces he's dropping "Lyon" from his name to become "Hakeem," winning the battle along the way.
Candace shows up at the after-party to tell Cookie that Carol's abandoned her kids, and Carol says all of her troubles are because of Cookie — who then grabs Candace and insists they have to go to Philadelphia…
…And a limo comes by the same after-party to bring Laura home, whose driver turns out to be the pregnant Anika, wearing a wig and looking sneaky….