The 'The Flash', 'Arrow' Crossover 'Legends of Today' Looks Hype
Are superheroes hanging out with each other wearing thin?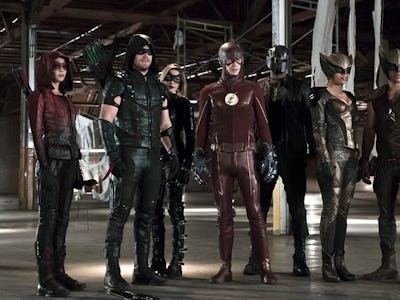 The CW Networks
"Holy shh—" Cisco isn't wrong. This year's The Flash and Arrow team-up, "Legends of Today" is promising to surpass last year's excellent two-parter. But with Batman v. Superman on the horizon and Avengers: Age of Ultron kind of stumbling out of the gate, can superhero crossovers maintain that special flavor which make them sweet as hell like in comic books?
The novelty of seeing costumed titans together is beginning to wear thin.
Team-ups are standard procedure in comic books, but it's still fun to unexpectedly see Iron Fist when you're reading Daredevil. On TV and movies, crossovers are the entire premise. Wouldn't it be nice if it was a surprise? Captain America's "cameo" pretty much saved Thor: The Dark World from being a total wreck.
But the day crossovers get old will be the day I'm old and crotchety. "Legends of Today" still looks hype and will be a great pregame for the bigger Legends of Tomorrow miniseries premiering January. The two-parter will formally crown Kendra Saunders as Hawkgirl with newcomer Hawkman. Also new this year is Thea as Speedy, Laurel and Sara both as Black Canary, and Diggle's Magneto Punisher Black Ranger (He should really adopt an official identity).
The Flash and Arrow will crossover across two episodes on two nights beginning December 1.