LEGO Producing Limited Edition Slippers to Protect Feet from LEGOs
Only 1500 pairs will be made, and getting them will take some luck.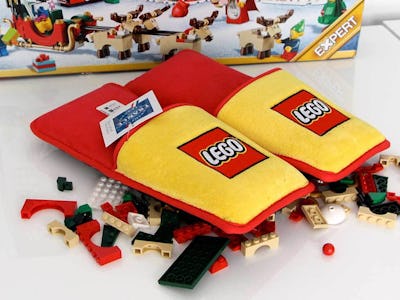 Brand Station/LEGO/Piwee
The LEGO group has created a limited edition slipper intended to protect feet from the undeniable pain of stepping on LEGOs.
However one gets a LEGO underfoot, there's no denying it's a big ouch — and if you thought maybe you were the only person who found stepping on the building block toys to be an especially excruciating experience — you're not, as it's an international agony. In fact, it's science:
LEGO apparently is aware of what distress comes with treading on its toys — and to provide some relief it's teaming with the French ad agency Brand Station to construct a padded, logoed LEGO slipper that protects feet from its pointy plastic products (and although a LEGO item, in this case the slipper is made out of soft stuff, not actual LEGOs).
Furthermore, the moccasins are free—but only 1500 pairs are to be produced—so anyone hoping to score some most go to the French LEGO site (wishlist.lego.com) and fill out a Christmas wish list. All who do so are entered into a random drawing for a pair of the footwear.
Of course, even if you don't end up with the slippers, you can still avoid being these guys: