Truck Filled With Explosives Found Outside Germany's Hannover Stadium
Trains leaving the scene have been halted after police report being alerted to a "very real" threat.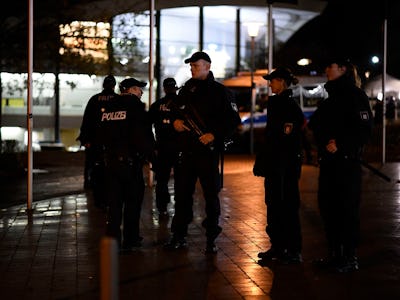 Getty
A truck disguised as an ambulance and "full of explosives" has been found near Hannover stadium not long after authorities cancelled the day's scheduled soccer game between Germany and Holland for security reasons.
As recently as an hour before finding the truck, German authorities were ordering spectators out of the building, having been tipped to a "very real" threat.
German Chancellor Angela Merkel was scheduled to attend the game.
Hannover's chief of police Volker Kluwe told German media "there was a device intended to be detonated inside the stadium." Besides evacuating the stadium, trains leaving the area have also been stopped.
Another game scheduled for Tuesday between Belgian and Spain in Brussels was also cancelled by the Belgian FA as local authorities were searching the country for suspects believed to have been part of this weekend's terrorist attacks in Paris. A match between France and England is still on.