Shia LaBeouf's Most Mind-Expanding Comments about #ALLMYMOVIES
"Sincerity is the new punk rock."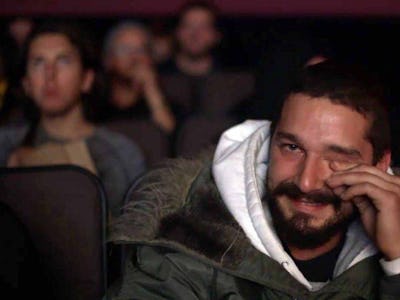 Facebook
For those of you who have avoided the entertainment news internet, noted actor, performance artist, and self-styled maniac Shia LaBeouf spent three days at the end of last week in Manhattan's Angelika Film Center watching every movie he's ever been in. He sat in a chair in front. People who waited in line to get in could interact with and sit right next to him, even, but he would not respond.
Today, a post-mortem interview with LaBeouf was conducted by the artists who assisted him with the project — Nastja Säde Rönkkö and Luke Turner. LaBeouf expressed the overwhelming feelings of delight he felt after the conclusion of the marathon, and how free he felt after those days of intense self-scrutiny and vulnerability. Why this wasn't the feeling he got after the last project he did with the performance art team, I'm not sure.
In any case, Shia feels free to be Shia — the long-tormented soul has been sprung from his inner prison. Cue the Nelly Furtado, bro.
Some relevant quotes:
"I just know if I can explain a feeling, I feel lighter today. I feel love today. It's as simple as this: I used to order my coffee and when they'd say, "Hey what's your name?" I'd say James, because I didn't want them to say my name."
LaBeouf… James LaBeouf, am I right?
"I feel distance in the movie game, because I don't do it the same way they do it…and then you feel exiled from life, because you're some celebrity character or a fuck up, and then you get in part of this art crowd and you're like 'Oh this where all the people who feel like outsiders go' and then you go to the outsider club and you're an outsider in the outsider club…
Blah, blah, talking about how he loves a visual artist who attended, then:
"And I walked back into the theater like, 'You're a part of this…you're part of this club that you've always wanted to be a part of.'…Me just trying to intellectualize it now, I don't have the words. My feelings, though, didn't lie to me."
Something everyone can relate to: being stuck between two extremely elite and privileged groups but all the time having that gnawing thought: "I'm kinda like too much of a bro for these scenes." Then, like, my favorite Queen of Art watched Holes with me, so okay, I finally can vibe! Miracle of miracles!
"Someone saying they need to intellectualize art is saying "I need to hold onto the keys." That's all they're saying."
The Art Car has a mind of its own, just like Herbie, Fully Loaded. You just have to let it do its thing.
"There's no intellectual explanation for why when you yawn I yawn. There's something magical that goes down. I'm sure there's science but there's also something beyond the science."
"A lot of this stuff—especially Even Stevens…the Even Stevens Movie was interesting, it's all of our childhood. It's mine and it's yours. It wasn't just me smiling like that."
It was all of our childhoods, except you were a precocious child actor on his way towards being a millionaire.
"You're a part of this human thing. You're in this human thing. I've always felt as though, 'I'm just an animal in this human thing. And I'll play the human game. I'll wear the human mask.' But coming out of there, it's the first time I've actually felt part of this —it was very humanizing for me."
"Making pizza can be an art."
Now that's a take I can get behind.
Read more at NewHive's website.