No, the Empire State Building Is Not Lit up With the Colors of France's Flag Right Now
Twitter fakes strike again.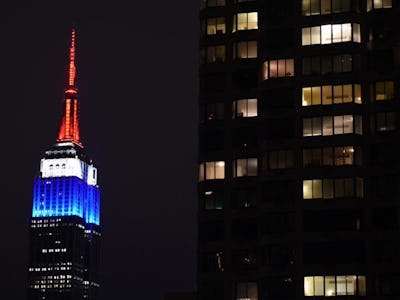 Twitter
There's an image floating around Twitter right now with the Empire State Building shining red, white, and blue — the colors of France's flag, the Tricolour — following the horrific terror attacks in Paris on the evening of November 13. While it's a touching thought… it's also totally incorrect and spreading like wildfire across the social media platform.
A reverse image search shows that particular picture floating around on Twitter right now was from January 2015 to honor the lives lost in the Charlie Hebdo attacks in Paris.
The building was lit up with red, white, and blue several days prior in honor of Veteran's Day on Wednesday, November 11. (However, it should be noted the colors were in a different order.)
Here's a look at the Empire State Building tonight, November 13 at about 7:35 p.m. EST, courtesy of AFP New York's Brigitte Dusseau.
Hours later at 10:00 p.m. EST, the Empire State Building went dark in solidarity with France and those affected by the horrific attacks.
Remember, don't believe everything you see on Twitter.