When Re-Blogging an ISIS GIF on Tumblr Means Prison Time
James McNeil, a 25-year-old Ohio man who supports the Islamic State, has been arrested on terrorism charges.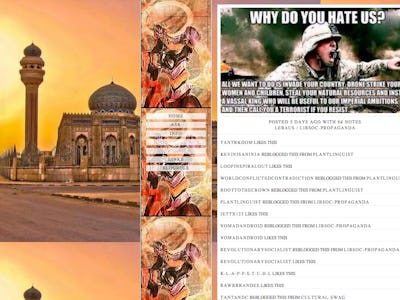 Tumblr
The language of social media — "Tumblr," "reblogged," "lmao" — sticks out like a sore thumb on the lengthy criminal complaint against an Ohio man:
"On or about Sept. 24, 2015, using a Tumblr account, [Terrence] McNeil reblogged a file with the banner "Islamic State Hacking Division," followed by "Target: United States Military" and "Leak: Addresses of 100 U.S. Military Personnel."
Yes, the one-click action of reblogging will get you arrested on federal charges of soliciting the murder of members of the U.S. military. That is, if it's the latest in a long line of Facebook and Tumblr posts calling for similar actions.
According to FBI investigators, Terrence McNeil, a 25-year-old Ohio man, allegedly "solicited the murder of members of our military by disseminating ISIL's violent rhetoric, circulating detailed U.S. military personnel information, and explicitly calling for the killing of American service members in their homes and communities," said Assistant Attorney General Carlin in a statement about the arrest, announced on Thursday.
Judging from McNeil's still-online Tumblr account, his reblog was no accident: He's said he's a supporter of the terrorist group, as documented in the criminal complaint against him.
The Tumblr certainly has a strangeness to it: Between images of rainy days, the Simpsons, and South Park, you'll find ones of Osama bin Laden and anti-U.S. military memes.
Perhaps the most media-savvy terrorist group in human history, ISIL (sometimes referred to as ISIS) has used the internet to recruit since the beginning.
The Justice Department press release announcing McNeil's arrest hammers this home: "ISIL and its followers continue to use social media in an attempt to incite violence around the world, including in the United States."
According to the Justice Department, McNeil reblogged the GIF file that reads:
"O Brothers in America, know that the jihad against the crusaders is not limited to the lands of the Khilafah, it is a world-wide jihad and their war is not just a war against the Islamic State, it is a war against IslamKnow that it is wajib (translated to "necessary") for you to kill these kuffar! and now we have made it easy for you by giving you addresses, all you need to do is take the final step, so what are you waiting for? Kill them in their own lands, behead them in their own homes, stab them to death as they walk their streets thinking that they are safe…"
The GIF then shows several images, purportedly of U.S. military personnel, along with their respective name, address, and military branch.
The final image looped is a picture of a handgun and a knife with text that reads "…and kill them wherever you find them…"
McNeil appeared in federal court in Cleveland on Thursday.
Also on Thursday, Mohammed Emwazi, a.k.a. "Jihadi John," was reportedly killed in a drone strike in Raqqa, Syria. Born in Kuwait and raised in London, Emwazi moved to Syria in 2012 and later appeared in the videos that showed the killings of American journalists James Foley and Steven J. Sotloff and the American aid worker Peter Kassig. British aid workers David Haines and Alan Henning, Japanese journalist Kenji Goto, and a number of other hostages have also been in the videos, according to the Pentagon.
"We are assessing the results of tonight's operation and will provide additional information as and where appropriate," reads a statement released by the Pentagon late Thursday.