Geo Group Uses Ankle Monitors to Monetize a Terrifying Immigration Process
In which a private prison company makes a mint in the refugee game.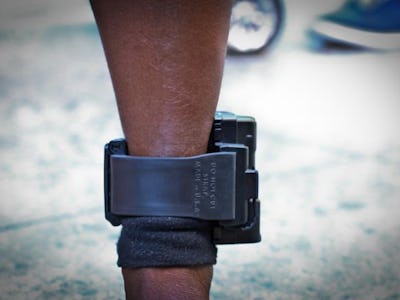 Imagine you've just been released from a detention facility in South Texas and put on a bus towards a US city you've never been to, in a country you've never lived in. Imagine that before this greyhound trip, you and your child fled gang violence in Honduras or El Salvador, only to be held in a prison-like facility by the US government. And imagine that now, on the bus, an electronic monitor shackled to your ankle is running low on batteries – and if it charge dies the authorities could say you're in violation of your release.
That's the situation many mothers have faced because of a policy the United States calls the Alternative To Detention program. The program is part of a larger policy of family detention that the Obama administration revived in 2014 in response to the rush of refugee children at the souther border.
In the summer of 2014, more than 68,000 children journeyed to the United States. Many of the young asylum seekers were unaccompanied, but some came with their parents. The Obama administration responded to the huge increase by opening a detention facility for families at Artesia, New Mexico. After complaints of abuse and misconduct, the government shut it down and the Department of Homeland Security opened two new ones in Texas — one in Dilley run by Corrections Corporation of America, and one in Karnes, run by Geo Group. Both are private prison companies.
There is also a family detention center in Berks, Pennsylvania. More than 2,000 women and children were held in the three centers in early October, according to ICE, and advocates estimate the number is roughly the same now.
Since 2011, BI has pulled in $287.6 million in federal contracts for all of its work monitoring immigrants, including services beyond the ankle devices. Nearly 3,000 women have been "enrolled" in the ankle monitoring system, according to data provided by ICE.
Geo Group has also done well for itself in the immigration game. Since, 2008, they've gotten $1.3 billion in contracts just from ICE over the same period.
Advocates for the women and children say that in the last few weeks the use of ankle monitors has increased, as an alternative to giving the refugees bond hearings before a judge. In lieu of the hearing, the lawyers say, ICE tells the women to sign a form "consenting" to wear an ankle monitor as a condition of release. Some of the lawyers say the women are given misinformation – for example, that they'll have to wear a monitor even if they see a judge so they should just sign the form and not wait around for a hearing.
Several attorneys told me that they've been barred from being present when the women are given the monitoring form, despite repeatedly asking to attend. "We've asked to be in the room when they sign these documents," says Brian Hoffman, former lead attorney for the CARA Pro Bono project. "They won't let us in."
Lindsay Harris, Legal Fellow for the American Immigration Council, echoes that claim. "Unfortunately, ICE has refused all requests of attorneys to be present when ICE is presenting these women with these forms," says Harris.
In some cases, the documents aren't explained to the women at all. "I was down at Dilley in late October, and we had a client who was an indigenous-speaking mom," says Harris. "She had no idea what these papers were. She was just told that she had to sign in order to leave." It was only after she did so that it became clear to her what she had agreed to: wearing a monitor and waiving her right to appear before a judge.
The reason for the uptick in ankle monitors is somewhat ironic. In August, Federal Judge Dolly Gee ordered the Obama administration to drastically limit its use of family detention. She ruled that children must be released as soon as possible, and can't be held for more than five days unless the government is facing an emergency "influx" of immigrants. ICE has been using the monitors, the lawyers say, to avoid holding women for periods that would clearly violate the judge's order.
As for the ankle monitors themselves, the length of time the women have to wear them is arbitrary, the lawyers say. ICE agents in the woman's destination city determine when the monitors can come off — sometimes at the first meeting, a month or so after release from detention, and sometimes much later. The devices themselves need to be charged regularly, no easy task for a mother trying to raise a child in a completely new culture. Plus, neighbors and employers might look at the monitors and assume the asylum seekers are felons. After all, BI was acquired by Geo Group as a hedge against alternatives to incarceration. They make monitors for felons.
Advocates for the women have long called for the abolition of family detention, and continue to object to the widespread use of ankle monitors for women who have not been accused of committing a crime. Rather than shackle them to an electronic monitor that can be stigmatizing and physically uncomfortable, they argue, the government should pair with community organizations to ensure the asylum seekers show up to their immigration court date.
In a show of just how dependent the Department of Homeland Security is on Geo Group, DHS awarded Geo a contract to run a five-city case management program in September. Congressperson Raul Grijalva (D-AZ) has criticized that decision and called for an investigation into the awarding process. Several lawyers tell me that the perverse effect of the program is to make the women even more likely to distrust law enforcement and judges at every stage of the immigration process.
Still, the government defends the practice. "The Alternatives to Detention program is designed to support the mission of U.S. Immigration and Customs Enforcement's Office of Enforcement and Removal Operations to augment our border control efforts," ICE spokesperson Jennifer Elzea told Inverse in an email. "ATD is a flight-mitigation tool that uses technology and case management to increase compliance with release conditions and facilitate compliance with court appearances and final orders of removal while allowing participants to remain in their community as they move through immigration proceedings."
A spokesperson for Geo Group asked that questions about monitors and the new program be posed to the ICE.
Ultimately, advocates argue, these women need counsel and compassion after surviving hellish ordeals in their home country and unnecessary detention by the United States. "We think what they need is to be empowered with information and representation rather than this invasive monitoring system," says Harris. "That will ensure they show up in court."