'On Cinema' Takes Its Brilliance to a New Level
Tim Heidecker and Gregg Turkington never cease to amaze. This week's episode is their show's best.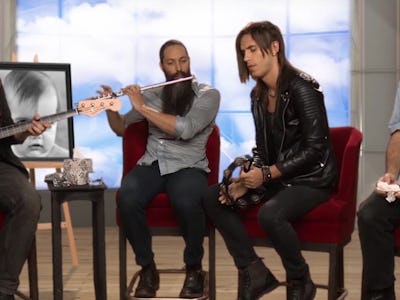 Tom Goes to the Mayor and Tim and Eric Awesome Show, Great Job! fans know that Tim Heidecker keeps his hands full, on and off TV. Between working on various franchises on Adult Swim — from Check it Out! With Dr. Steve Brule to Tim and Eric's Bedtime Stories — he's making films, additional web content, or making music — either with his longtime, AM-rock-indebted project Heidecker and Wood, or on his own (check out his 'Titanic' challenge to Bob Dylan and his Herman Cain song cycle).
A now-long-running project has been the low-maintenance On Cinema, a show on which Heidecker and Gregg Turkington (who first made his name as his misanthropic, Tony Clifton-esque standup comedian alterego Neil Hamburger) critique new blockbusters, and give them ratings from one to five bags of popcorn. The largely improvised show is well into its seventh season, having started out as a podcast and web series, and has since moved to regular rotation on Adult Swim.
It's consistently hilarious, driven by the constant odd-couple bickering of the Hobbit obsessive Turkington and the aloof Heidecker, who refuses to acknowledge Gregg as his co-host. The duo have also live-webcasted Oscars commentary.
Unless you keep up religiously, you might have missed the best episode in the show's three-year run yesterday. Entries like this just confirm that Tim — unlike many noted anti-comedians from Galifianakis to Wain who have gone on to pursue bigger projects — still refuses to temper his instincts. In the latest episode, he bemoans the loss of an invented baby son — Tom Cruise Heidecker — in gelled hair, fake goatee, and studded earring, while Turkington, choked up, praises the deceased. There's also a flute-playing doctor who looks like a member of System of the Down, Tim's "producer" Axiom on the panel, a 1997-looking slide show and a musical tribute, with Tim playing fat chords on an electric bass (remember "Bassfest"?) At the end, Tim and Gregg sullenly try to review some movies they haven't seen.
My best recommendation: Don't forget to watch On Cinema, which remains a home for Heidecker's strangest and best ideas, and is an all-time Adult Swim treasure.