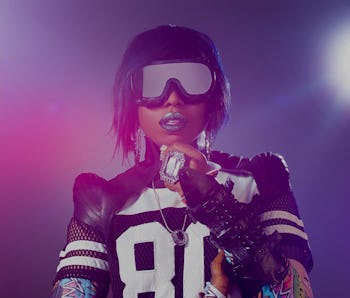 Entertainment
Missy Elliott and Pharrell Fire on All Cylinders with New"WTF" Video
Missy's first solo track in three years is raucous, unendingly satisfying stuff.
Facebook
Finally, the Missy and Pharrell track that has been hanging around since last month — in snippets — has been realized in full, and with a suitably batshit, decadent video treatment. There are marionettes, Missy and Pharrell, glittery street wear beamed down from another galaxy, and plenty of rapidfire rug-cutting of an indescribable nature. In other words, it's a Missy Elliott video.
There's no doubt this song — with its beat coming off like Timbo for the modern, trap-and-dancehall-acclimated rap fan, and Missy's catchy, stuttering phrasing — could be a Top 40 hit. It gives old fans just what they want, without ignoring what's been working about recent hip-hop and R&B. It's her first solo drop since 2012.
Here's hoping for a legitimate Misdemeanor comeback — and with that, maybe a return to swaggier, less "Happy"-flavored form for Pharrell (remember? this guy can also rap really well).