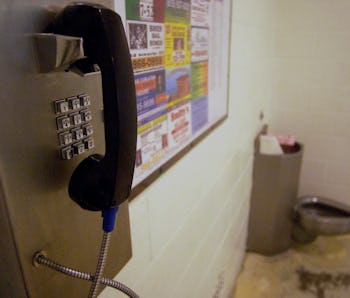 Culture
Prison Phone Company Securus Technologies Says Massive Hack Was an Inside Job
"Evidence suggests that an individual or individuals with authorized access ... may have used that access to inappropriately."
Getty
Calls between prisoners and their lawyers are supposed to remain private, but a massive cache of leaked phone records revealed Wednesday that those calls were recorded. Today, the company that handles prison phone calls claims the leak was an inside job and not the result of an outside hacker.
In a statement to the press, Securus Technologies officials say the company found no evidence of a hack, claiming its more likely someone with authorized access leaked the records. The company also says there's no evidence of recording attorney-client communications, except in cases where the parties consented.
Securus is the nation's largest provider of prison phone services and was accused of potentially violating attorney-client privilege by The Intercept Wednesday when the site reported that an anonymous hacker had leaked the records via SecureDrop. The Intercept reported that thousands of the recordings were of inmates speaking with their attorneys, and that Securus may have violated their constitutional protections for right to effective council by storing them.
Here's Securus' full statement:
"Securus is contacting law enforcement agencies in the investigation into media reports that inmate call records were leaked online. Although this investigation is ongoing, we have seen no evidence that records were shared as a result of a technology breach or hack into our systems. Instead, at this preliminary stage, evidence suggests that an individual or individuals with authorized access to a limited set of records may have used that access to inappropriately share those records."
"We will fully support law enforcement in prosecution of any individuals found to have illegally shared information in this case. Data security is critically important to the law enforcement and criminal justice organizations that we serve, and we implement extensive measures to help ensure that all data is protected from both digital and physical breaches."
"It is very important to note that we have found absolutely no evidence of attorney-client calls that were recorded without the knowledge and consent of those parties. Our calling systems include multiple safeguards to prevent this from occurring. Attorneys are able to register their numbers to exempt them from the recording that is standard for other inmate calls. Those attorneys who did not register their numbers would also hear a warning about recording prior to the beginning of each call, requiring active acceptance."
"We are coordinating with law enforcement and we will provide updates as this investigation progresses."