Airbnb Issues 'Community Compact' Promising Cities Transparency
The short-term rental kings are bowing to pressure from municipal governments.
by Sam Blum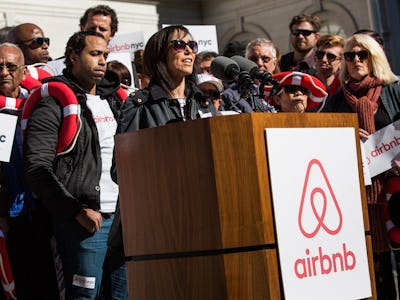 Getty Images
Short-term rental facilitator Airbnb relaxed its usually defiant public stance on Wednesday, shrugging its way through a new plan to become more transparent on a corporate level while moving toward compliance with various cities' municipal statutes, going so far as to start facilitating the payment of hotel taxes.
Airbnb's "Community Compact" arrives on the heels of a contentious vote on "Prop F," which would have placed limits on short-term rentals in San Francisco, and a $25 billion valuation. It also comes shortly after the publication of an investigation of what happens when guests die in Airbnbs that re-raises the issue of liability, which is something of an albatross for the company.
The Community Compact begins:
"Airbnb is a people-to-people platform — of the people, by the people and for the people — that was created during the Great Recession to help people around the world use what is typically their greatest expense, their home, to generate supplemental income."
This is canny repositioning, but it isn't in line with the popular perception of the site as a way for "haves" to become "keeps" and a good way to solidify current class-driven housing patterns. This issue has gained rhetorical, if not legal, momentum largely because of the service's apparent effect on specific, desirable neighborhoods, where longterm housing stock has been essentially removed from the market.
Today's announcement by Airbnb promises to supply anonymous customer data to city officials, while working with different city governments to follow tax codes.
"While protecting our hosts' and guests' privacy, Airbnb will provide anonymized information regarding hosts and guests in our community to city officials to help inform the development of home sharing policies. We will work with individual cities to identify the specific types of data they need to craft fair, progressive rules."
Airbnb also announced annual "Home Sharing Activity Reports in cities where our community has a significant presence," that will serve to keep a watchful eye over how much money Airbnb hosts make as well as the company's total economic impact in geographically defined regions.