Facebook's New Notify App Will Have to Overcome Skeptics
The social media giant's latest app venture looks to be a knockoff Twitter copycat.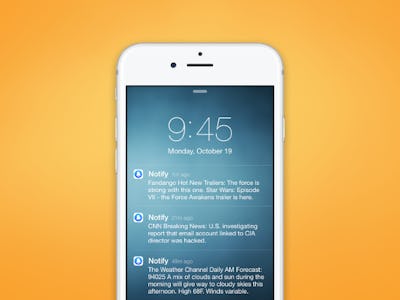 Facebook
In an effort to further turn your phone into a portable Rube Goldberg Machine, Facebook, today, has launched Notify. As the name may indicate, it's an app that streamlines your Facebook notifications and delivers them all to you in one mobile app.
Why do we need a separate app for something Facebook already does? The idea behind Notify, according to Facebook's press release, is that it can be the place for breaking news that's relevant to you. You just select the "sources" that matter most to you, and when news breaks you'll receive a push notification on your lock screen. That might mean final scores for the sports enthusiast, or this week's seven-day forecast for the aspiring meteorologist.
Yes, it can organize notifications, but The New York Times, for example, already sends reliable and rarely superfluous or intrusive push notifications. It's hard to see why Notify's NYT notifications would be any better, or just different. In addition, there are not very many sources from which to choose; they're mainly huge news and entertainment outlets. With Notify, Facebook may be ignoring — or just trying to poorly encroach upon — Twitter, which is already a source for curated notifications.
Tweets don't automatically pop up on your lock screen, but if you really wanted them to, it could happen. Why wait for Billboard to report news when you can just monitor Drake's own feed?
Presumably with a straight face, Facebook also encourage users to share their "favorite notifications with friends via text, email, Facebook, or other social networks" — because Facebook, of course, really wants you to share Facebook content on other social networks. But the substance behind the notifications tend to be what's most interesting, not the notification itself. Plus, you could text a buddy the score of the game without having to jump through app hoops.
Unless it can work up a better angle than "notifications," which doesn't seem like Facebook's goal, Notify looks to be redundant at best, and at worst, a hugely unnecessary future flop.