J.J. Abrams Is Making a Video Game and It's Called 'Spyjinx'
The 'Star Wars' director is teaming up with 'Infinity Blade's developers for a new project.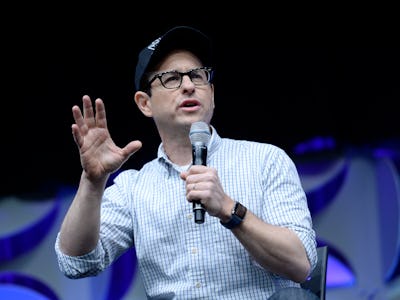 Getty
J.J. Abrams is just about done with Star Wars: The Force Awakens (36 days left), but he's already moved on to his next project. And it's a video game.
Teaming up with Infinity Blade developers Chair, Abrams has begun work on his first video game Spyjinx set for release on PC and mobile in 2016.
While they talk more about how Bad Robot and Chair are big fans of each other and the Unreal engine, they do hint at Spyjinx's "dynamic world building" and "RPG character development." That doesn't say much when even Call of Duty has character development, but that's just Abrams playing with his handy dandy mystery box.
But it is easy to guess that Spyjinx will have a whimsical style like a cartoon. There are silhouettes of Hannah-Barbera-esque characters on the official Spyjinx website. Also on the website? Open beta registration, so anyone can sign-up for early access now.