The Best One-Off Directors in Cinema History
These filmmakers only had one chance in the director's chair before never returning again.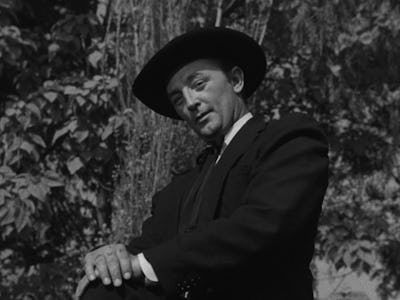 Criterion
Between 2001 and 2002, Japanese director Takashi Miike was credited as director on no fewer than 15 features: family films, gangster movies, comedies, horror flicks. He was — and still is — nothing if not prolific. Likewise, before he died in 1982 of a drug overdose at the age of 37, German filmmaker Rainer Werner Fassbinder had directed 40 feature-length films, including a 14-part miniseries with a runtime of more than 15 hours. Some people like to direct; some people direct themselves straight into the ground.
These are the quantity guys, who made an incredible amount of movies in a short amount of time. Hell, some of the best-known directors take this tack. Steven Spielberg directed Schindler's List and Jurassic Park in the same year, and would go on to double up with two movies per a year in 1997, 2002, 2005, and 2011.
By contrast, some directors only managed to make it behind the camera once. They don't call these one-hitters "wonders" for nothing.
5. Kerry Conran - Sky Captain and the World of Tomorrow
Conran's retro-futuristic movie was a throwback to pulpy, Depression-era serial adventures a la Flash Gordon and noir films like The Third Man, along with a tech-tinged eye towards the future. Sky Captain, about a newspaper reporter named Polly Perkins (Gwyneth Paltrow) following the exploits of a secretive fighter pilot called Sky Captain (Jude Law) in an alternate 1939, was shot almost entirely in front of blue screens on soundstages in London. Besides pre-dating other movies like Sin City shot with digital backdrops, the movie also anticipated steampunk's entry to the mainstream. The movie was a moderate hit with critics but it crashed and burned at the box office, maybe explaining why the ambitious rookie director hasn't managed to make another feature. Conran since has been attached to many other projects, including a long-gestating adaptation of John Carter of Mars that never materialized, but has paid the bills by directing commercials and shorts like 2012's Gumdrop, another tech-heavy project about a robot going on an audition.
4. Saul Bass - Phase IV
Though it's lived on as a cult classic since it first befuddled audiences in 1974, Phase IV is famed graphic designer Saul Bass' only directorial effort on a feature. Bass devised iconic logos of companies like AT&T and United Airlines, and bridged the gap between design and film by creating some of the most memorable opening sequences in history. You have Bass to thank for the vivid, abstract title scenes from Alfred Hitchcock movies like Vertigo and North By Northwest. That popularity led to him making an Oscar-winning short called Why Man Creates in 1968 before he set his sights on something bigger. Phase IV is a movie about highly intelligent ants that may be attempting to take over the planet and/or join with humans to form a higher intelligence. It was a hard sell from the beginning, but the film's microphotography — featuring real ants filmed by wildlife photographer Ken Middleham — mixed with Bass' eye for composition makes it as memorable as it is puzzling. Ultimately the studio didn't let Bass include the ending he wanted and critics pummeled the film, and Bass stepped away from the director's chair. He continued to do opening title sequences, most notably Martin Scorsese movies (Goodfellas, Cape Fear, The Age of Innocence, and Casino) in the 1990s, before he died in 1996.
3. Marlon Brando - One Eyed Jacks
There's before Brando, and after Brando. But that's when it comes to acting. Directing is a whole different story. The notoriously peckish actor was seven years out from his Oscar for Best Actor for On the Waterfront when he decided to move forward with One Eyed Jacks, a western he developed at his company Pennebaker Productions. It follows an outlaw who breaks out of prison in Mexico to seek revenge on his former partner who sold him out and put him there. Infamous filmmaker Sam Peckinpah was hired to write the script, while Stanley Kubrick came on board to direct following the success of Spartacus. But tensions mounted as Brando and Kubrick fought over the script. Kubrick dropped out to direct Lolita instead, and Brando stepped in. Troubles mounted. Brando's original cut ran 300 minutes long. Told to cut it, he walked off the movie, leaving Paramount executives to get outside editors to complete the film. Though Brando called it "one of my favorite pictures," he later told Rolling Stone: "It was a real ass-breaker, you work yourself to death. You're the first one up in the morning… I mean, we shot that thing on the run, you know, You make up the dialogue the scene before, improvising, and your brain is going crazy." The fallout sent Brando on a relatively forgettable run of movies until his career was resuscitated again in 1972 by appearing in The Godfather. Quality or not, the movie is still notable. It's Brando.
2. Walter Murch - Return to Oz
By the time he took on Oz, Walter Murch was an unsung hero in cinema-geek circles, mostly for his collaborations with Francis Ford Coppola creating the groundbreaking sound design for and editing various movies like Apocalypse Now, The Conversation, and The Godfather movies. He also worked with George Lucas on his pre-Star Wars movies and advised Lucas on that paradigm-shifting franchise. But when he decided to make a movie for himself it ended up being something resembling torture. Disney hated the footage Murch shot for his Wizard of Oz sequel so much that they fired him five weeks into production before Lucas lobbied for him to be reinstated. When it was released it was generally thought of as one of the scariest kids movies of all time (at one point Dorothy receives electroshock therapy). It earned only $11 million against a $28 million budget. It did receive an Oscar nomination for Best Visual Effects, but it caused Murch to go back to the sound department till this day.
1. Charles Laughton - The Night of the Hunter
Charles Laughton had been acting in films for nearly 30 years before he directed the 1955 masterwork The Night of the Hunter. This stylish look at good versus evil is widely cited as the best movie from a one-off director ever made, due to its southern gothic performances, its fairy-tale tone, its expressionistic style, and influence on countless other filmmakers: David Lynch, the Coen brothers, Spike Lee, others. The movie follows Robert Mitchum's traveling preacher-turned-serial killer who marries a recent widow in hopes of finding her dead husband's hidden millions; her children key in on his nefarious plot. Laughton went on to develop an adaptation of Norman Mailer's The Naked and the Dead before a falling-out with his producing partner Paul Gregory forced him to abandon the project for other acting work. Laughton died in 1962 without stepping behind the camera again. He took one swing as a director, and he made it count.