Hawkman, Hawkgirl Will Join in the 'Arrow'/'The Flash' Crossover
Before 'Legends of Tomorrow,' they'll hang out with Green Arrow and the Flash.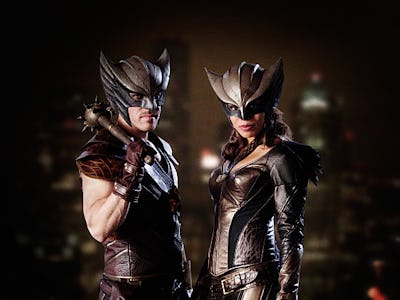 The CW Networks
It's the fall of TV superhero crossovers. Last week Constantine came to Star City, and now Arrow producer Marc Guggenheim has tweeted an early peek at this year's (annual?) Arrow and The Flash two-part crossover. The invitation has been extended to Hawkman and Hawkgirl.
Ciara Renee has already debuted in The Flash as Kendra Saunders, a new Central City resident. She had a cameo in the first season finale of The Flash, and last week we finally met her working at the coffee shop frequented by the S.T.A.R. Labs crew. She's going on a date with Cisco. It's not going to work out, but hey, they should enjoy it while they can. They're young. We all get to make mistakes.
Falk Hentschel will be joining her as Carter Hall, who flies the skies as Hawkman. Together they'll be in Legends of Tomorrow, joining the likes of Caity Lotz's Sara Lance (White Canary), Brandon Routh's Ray Palmer (The Atom), and Arthur Darvill's Rip Hunter.
DC's Legends of Tomorrow premieres in January.