George Romero's 'Empire of the Dead' Colonizes AMC
The book, written by the Godfather of The Dead, may be next for television.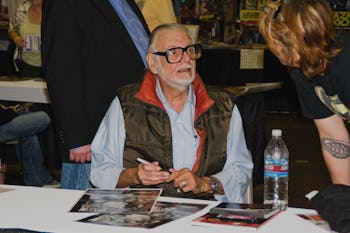 Kevin Stanchfield / Flickr Creative Commons
If the artist tells true, George Romero's Empire of the Dead is coming to TV.
Artist Arthur Suydam, appearing at a convention in Louisville, Kentucky, told a local news crew that the Marvel Comics book Empire of the Dead — authored by Romero, generally recognized as the creator of the modern zombie genre — has been picked up for production by AMC, the basic cable channel that already airs The Walking Dead and its spinoff Fear The Walking Dead.
Speaking with ABC affiliate WHAS-TV, Suydam was interviewed Sunday while appearing at a Wizard World comic convention, where he held up a copy of Empire and stated that not only did he just finish working on the book, but that "it just got signed to AMC," and "it's going to be the next big zombie series on AMC."
As of this writing, AMC has not confirmed that an Empire of the Dead series is officially happening on their network, but as Suydam is a prominent part of the book's creative team, several comic and film websites have taken to confirming the show's future, based solely and only on the artist's interview.
Variety Magazine had previously mentioned that the Demarest production company was set to develop an Empire TV adaptation.
For those who don't watch or read either of the Dead chronicles, one might think that two shows with zombies is a lot of the same thing, but in fact the two properties are very different in approach. Yet both owe a great deal to Romero's career efforts, even where he isn't actually involved.
Unlike The Walking Dead TV series and the comics on which that show is based, Empire of the Dead features a zombie character that has intelligence, as well as vampires. Written by Romero — who is also the director, producer, and co-writer of the 1968 Night of the Living Dead, and the director/ writer of the original 1978 Dawn of the Dead — Empire echoes Romero's latter films Day of the Dead (1985) and Land of the Dead (2005), both of which demonstrate the dead evolving beyond being just mindless people-eating machines. This has been a point of contention for some fans of the zombie ilk who resist such a concept.
Walking is unrelated to Romero's Dead work, and remains devoted to the concept of permanently mindless undead cannibals, and does not feature vampires or other supernatural beings. But Romero is an icon, and his fanbase is a strong one, so zombie fans tend to venerate George A., even when he bends genre lore.
He has been announced as a dedicated writer of any Demarest Empire program, should it find its way to TV.