J.J. Abrams Says the 'Star Wars: Episode VIII' Script Is Finished
The 'Force Awakens' director dropped some knowledge in a 'Wired' interview.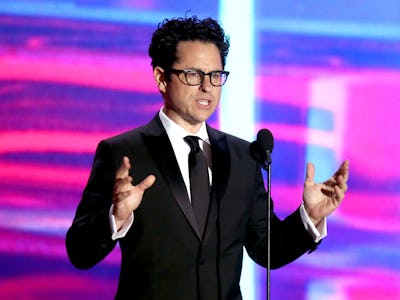 Getty Images
This morning, Wired published a new interview with the normally guarded J.J. Abrams, director of The Force Awakens. But since the release of the gargantuan next episode of the Star Wars saga is just over a month away, it looks like Abrams is finally willing to let people take a peek before the movie drops on December 18.
The most interesting tidbit from the interview: Episode VIII writer and director Rian Johnson has finished that movie's script. "The script for VIII is written. I'm sure rewrites are going to be endless, like they always are," Abrams told Wired. It's interesting to note that Johnson's movie actually began shooting in Ireland in September, meaning they could have commenced filming without a final script. But this leads us to believe the shoot in September could have been broader scenes meant to establish connective tissue between The Force Awakens and the next movie.
As for what those could have been, Abrams offers this response: "Rian has asked for a couple things here and there that he needs for his story … the story he told took what we were doing and went in the direction he felt was best but that is very much in line with what we were thinking as well."
The rest of the conversation stuck to what Abrams has gone through by resurrecting what is probably the most beloved franchise in cinema. The director didn't and probably wouldn't make any scandalous remarks at this point, but his responses to Wired are still telling.
What's fascinating is that he acknowledges his previous faults, most notably the critically maligned movies Super 8 and Star Trek Into Darkness. Going into The Force Awakens, Abrams said, "I didn't want to enter into making a movie where we didn't really own our story. I feel like I've done that a couple of times in my career. That's not to say I'm not proud of my work, but the fact is I remember starting to shoot Super 8 and Star Trek Into Darkness and feeling like I hadn't really solved some fundamental story problems."
To undercut those problems, and probably alleviate the massive amounts of stress that goes along with making a new Star Wars movie, Abrams said he and co-screenwriter Lawrence Kasdan, who also wrote the screenplays for The Empire Strikes Back and Return of the Jedi, kept things simple. "I asked questions like 'How do we make this movie delightful?'" Abrams said. "That was really the only requirement Larry and I imposed on each other: The movie needed to be delightful. It was not about explaining everything away, not about introducing a certain number of toys for a corporation, not about trying to appease anyone. This has only ever been about what gets us excited."
Asked about scenes from the original trilogy that stand out to him, Abrams gave a potential preview of his first installment of the new trilogy. Citing the "I am your father" scene from Empire, Abrams explained, "It was a massively powerful, instantly classic moment in movie history, but it was only possible because it stood on the shoulders of the film that came before it." Then he concluded by saying, "If 'I am your father' had been in the first film, I don't know if it would have had the resonance. I actually don't know if it would have worked." Does this imply that we won't see any huge reveals in his first movie like the much rumored "Evil Luke," but could come to expect some Earth-shattering "I am your father"- type reveal from Johnson?
We'll have to get through The Force Awakens first before we start thinking that far ahead. Still, the interview does what it's supposed to do and make us ridiculously excited for what Abrams, Johnson, and co. have in store.