The 'Fallout 4' Companion App Is Available Now
Complete with stats, the in-game map, and holotape games.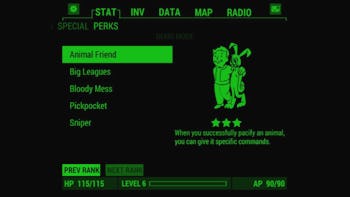 We have five more days until we can dive into the world of Fallout 4, Bethesda is making some money on appetizers before the main course hits shelves. The official Fallout Pip-Boy app was released on iTunes and Google Play this morning.
Designed to work with your Xbox One, PS4, or PC, the application directly models the in-game Pip-Boy, allowing you to manage your inventory and character from your phone or tablet. It even fits into the real Pip-Boy Replica from the collector's edition of Fallout 4 if you managed to pick one up.
The application itself only has a demo mode until Fallout 4 launches next week, but it has plenty of features that you can explore while you wait, including stats, perks, inventory, radio, a map, and holotape games. It also has the new layered armor system and a few items in the demo, showcasing the way equipment has been changed for Fallout 4.
Bethesda has also released the Fallout 4 Launch Trailer. The company is clearly making rolling a game out into an artform all its own. Whether that is ultimately good for gamers or game makers remains to be seen, but it is undeniably kind of fun.