Marc Friedman, Chief Operating Officer of buildOn | JOB HACKS 
On raising money, recruiting to nonprofits, and helping regular people change the world.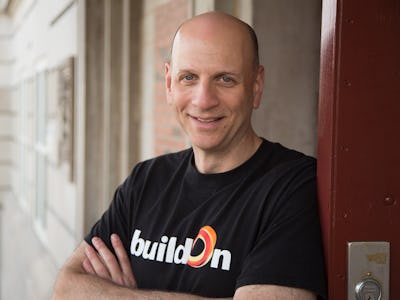 Careers rarely go according to plan. In Job Hacks, we shake down experts for the insights they cultivated on their way to the top of their field.
Name: Marc Friedman
Original Hometown: Detroit, Michigan
Job: Chief Operating Officer of buildOn, an international nonprofit organization that runs intensive service learning programs in challenged urban high schools. They empower youth to contribute direct service to their communities - working with senior citizens, the homeless, and younger children. These same students help build schools in some of the economically poorest countries in the world. BuildOn students have contributed more than 1.6 million hours of service in the U.S., and have helped build more than 830 schools in Burkina Faso, Haiti, Nicaragua, Nepal, Senegal, Malawi, and Mali. 92% of buildOn students in the U.S. not only graduate from high school, they go on to college. Internationally, their schools provide access to education for more than 92,000 children, parents, and grandparents every day.
How did you become involved with buildOn?
I was college roommates with our founder Jim Ziolkowski's cousin. Jim took a job with GE Capital in Connecticut where I was living, and I told him, "When you move to Connecticut, give me a call and let's get together and have a beer." That turned into a lot more than a beer not too long later.
He shared his passion with me and I was really intrigued and inspired. As he got things going, I volunteered, working a lot of hours at night and on weekends and became a board member. That was from '91 to '97. Then, in '97, I left my job [at a mid-sized distributor of electrical wire and cable products] and came to buildOn full-time. I was the third employee at that time.
Was this your first experience working for a nonprofit organization?
My background was more on a philanthropy side, but it was part of my DNA, thanks to my mom and dad. My mom was on the leadership team at the public television station in Detroit — so growing up, I was always involved in community service. I understood the importance of giving back and when Jim started talking about it, it was really inspiring to me. I wanted to do what I could, while understanding I still had a mortgage to pay and other responsibilities.
I think a lot of people feel that way — they'd love to give back and get involved, but they also have mortgages to pay. What advice would you give a young person who is looking to give back and get involved with a nonprofit but also looking to make a living for themselves?
I contemplated it a lot. It was a hard decision; I'm more risk-averse, and I was well along in my career already. I made the right decision — there's no question about it in my mind. But if you're young and adventurous, do what your heart tells you to do. If you're passionate about a cause, then jump in and do it. Because if you're motivated by something, you're going to do really well at it. I think there's a misconception about the hours that you work in a non-profit versus in the corporate world. I will say we work as many hours as most corporate executives do because we want to; because we're passionate about it.
So, as COO, a lot of your job involves fundraising. Is there any particular art to asking people for money?
Well, you have to believe in the mission. You have to believe in the kids and stay connected. Whether it's doing service with them or traveling internationally to help build a school, it's really important to stay connected. I see the alumni who have gone to the program and are now out in the world doing great things. Because they were inspired by buildOn, it makes my job in terms of fundraising not a job; it's a passion. It's all about the kids and the mission — and then our group of fundraisers represent them when it comes to asking for money.
Do you think that average Americans who don't live in poverty don't have a firm grasp of the struggles in our own country? Or do you think people are aware?
Some people are aware, but a lot of people aren't. Part of our job is to educate them to understand the impact they could have, whether it's financial or getting involved and working with the youth. That's part of what the buildOn movement is all about: getting people to go from being passive donors to active philanthropists. Whether it's going to Haiti, going to West Africa to build a school, or going up to Bridgeport to do service work with our kids. We call them partners rather than donors, because there are ways they can really engage in our work.
Was there an experience that particularly had a strong impact on you?
Yeah, there's this one young gentleman who came to the United States from the Dominican Republic. He didn't speak any English, and when he was a freshman in high school, he had to make a decision about getting involved in a gang or getting involved with buildOn. He chose buildOn. He quickly made friends at buildOn and started doing service work and developed a passion for it. He ended up being a part of buildOn for all four years of high school in the South Bronx. When he graduated, he went on to the University of Bridgeport and started the buildOn chapter there. He was the leader of the program in Bridgeport for his four years in college. Just about two or three months ago, I got a text from him that he has a job in social work — and that motivation for him to do that type of work started when he started with buildOn. So it's really inspiring to see how he took that experience and turned it into a really cool and worthwhile career path.
What's the most challenging part of what you do?
Staying connected to the kids. There are a lot of responsibilities I have in fundraising and leading the team. The demands in what is a very fast-growing organization are such that it's not as easy to stay connected — and for me that's the most challenging part. That's where I get my motivation, where everyone here at buildOn gets their motivation.
And I understand that through fundraising, your organization has attracted quite a few celebrities and high-profile donors. How do you go about getting them to notice you?
It's totally organic. Madonna came to us through a donor. She asked them who to call about building schools, and they said buildOn. And it was awesome — Madonna has funded like 10 of our primary schools in Malawi and a secondary school in Mali. In that same vein, we've made a connection with a foundation called In a Perfect World that was founded by Manuela Testolini. So far, In a Perfect World has funded about 19 schools, and just about a month ago they made a $1 million commitment to buildOn to fund 32 schools over the next five years. Manuela and her husband are going to Haiti in a couple weeks to do a site visit on three of the products that they have already funded and then they are going to make an announcement in L.A. on December 12th about the pledge and celebrating the 10-year anniversary of In a Perfect World.
Did it surprise you how easy it was to attract high-profile donors?
There's a lot that surprised me. When I left my old job to come to buildOn, did I expect to be sitting here as we're celebrating our 25th anniversary next year? I would say absolutely not. Every day is different. I love my job. In the Jim Collins book Good To Great, he talks about how, when you're building a team, you want to get the right people in the bus. Then you want to get the people in the right seat on the bus. For me, fundraising is a passion. I'm driven by it because I'm motivated by the kids, so I feel like I'm in the right seat on the bus at buildOn.
What are you most excited about for the future? Do you have any projects coming along?
We have our big gala coming up on November 12th. It's going to be at the American Museum of Natural History in New York, and we're honoring two of our corporate partners, John Angelo and Leon Cooperman. So you sell the tables to the gala and when you buy a $100,000 table, it comes with a commitment to the corporate partnership programs, and it's a great way to get corporate employees to do service work with our kids.
We're also celebrating our 25th anniversary next year. It's going to be an awesome celebration, we've been planning it for a couple months now. The growth that we're going to experience in our service and service-running programs here in the United States is exciting, as well as the number of schools we're going to be building internationally. And how we're going to connect our donors to our work and get them to go deeper is going to be an exciting project for us to work on.
How do you go about getting them to go deeper?
We convince them that they should make the time. Sometimes it's hard, but there are things we do to get them connected. One of the things we have is our Corporate Partners program. We designed it for corporations or individuals who want to make $100,000 investment in our service programs here in the United States.
There are six sessions, three hours search session, and there are three tracks the companies can choose from: College Readiness, Career Development, and Financial Literacy. Through the curriculum that we deliver, we partner 10 employees from Goldman Sachs and 10 students from the Bronx School for Law Government and Justice in the South Bronx. They go through these sessions together, and if it's College Readiness, they're writing out essays, the Goldman Sachs mentors are talking to the youths about the colleges they went to, what they need to do to prepare to go to college, the things that would help differentiate them from others. It's an awesome program and a great way for companies and employees to go deeper with their commitments.