Eddie Redmayne's Newt Scamander Teases Potter Prequel 'Fantastic Beasts' 
'Fantastic Beasts and Where To Find' Them reveals Newt Scamander. Let the speculation begin!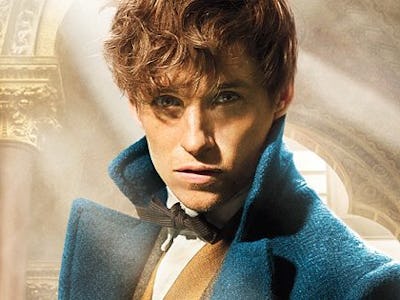 It's a good time to be a Harry Potter fan. Nearly 10 years after the series technically ended, not only is there the newly announced Harry Potter and The Cursed Child play, but the not-quite-prequel film Fantastic Beasts And Where To Find Them has just released its first image of Oscar winner Eddie Redmayne as Newt Scamander.
The film, which hits theaters next year, boasts a weird, wonderful cast that includes Colin Farrell, Ron Pearlman playing a goblin Ezra Miller, and Selma's Carmen Ejogo. Between the cast and the setting in prohibition-era New York, this film is clearly looking to significantly extend the Potterverse. Since little is known about the film aside from the setting, let's channel our inner Hermiones and study the shit out of these images.
Newt Scamander is a Dandy
All we know of Newt Scamander is that he's Luna Lovegood's grandfather-in-law and he wrote the Hogwarts textbook Fantastic Beasts And Where To Find Them, which is used in Care of Magical Creatures. We know nothing of his character, but from that jaunty blue coat and artfully mussed hair, we can see that he's a dandy, which is sort of an old-timey hipster with more expensive taste. This makes sense because it feels right for a Lovegood ancestor and because the most famous dandy of all, Oscar Wilde, had a crackling wit that influenced J.K. Rowling. And his artfully tousled hair is legions better than The Hair That Must Not Be Named — everyone's distractingly terrible coifs in Goblet of Fire.
Newt Scamander Doesn't Have a Plan
As J.K. Rowling revealed in a riddle on Twitter that she implored fans to solve, this is the premise of the story:
As the image shows, Scamander is wearing a light coat, which, depending on the season, could be a big mistake in New York, and loafers. He seems far more prepared to be on his way to an American Gringotts or perhaps a wizard speakeasy than he is to engage in battles or deal with beasts. Our hero, therefore, will be wildly unprepared. As Harry Potter knows, unprepared heroes who rise to the occasion often make the best kinds of heroes.
Newt Scamander's Wand has a Unicorn Hair Core
Rowling revealed that Scamander is a Hufflepuff. As we know from Goblet of Fire, his fellow Hufflepuff, Cedric Diggory, has a unicorn hair core wand. Unicorn hair often makes for springy wands and, since the wand chooses the wizard, springy wands belong to wizards with easygoing dispositions.
Expect quips and action. Expect someone, but not Newt, to die. Expect New York to look amazing.