What Does the Skyline Mean for New York City?
Instantly iconic isn't really a thing, but Greg Young argues for a subtle sort of success.
by Sam Blum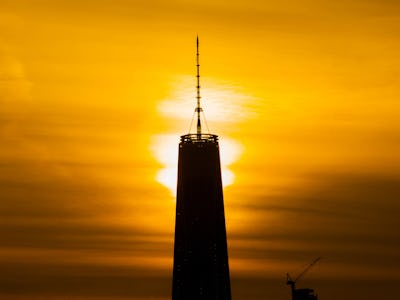 Anthony Quintano/Flickr Creative Commons
Americans have an obsession with building stuff and this obsession has a tendency to congeal into monstrous edifices. The Twin Towers were the ultimate example of this phenomenon and, when they fell, they left a deep gash in the national psyche as well as Lower Manhattan. In a sense, One World Trade Center, which opened a year ago, was more of a hypertrophic scar, built from blood cells and collagen fibers, than a building, built from a blueprint. It became the tallest building in the U.S., attempted to distance itself from the name "Freedom Tower," was accepted as monument to loss, and triumphed as tribute to the indomitable spirit of both a city and corporate optimism.
OWTC, like hordes of skyscrapers before it, is an enormous hunk of steel and glass, shooting upwards into the sky: Its metal spire ends at 1,792 feet. It's a beautiful building that reflects whatever hue prevails in the atmosphere around it.
While One World Trade Center and the adjacent 9/11 Memorial have become tourist destinations in lower Manhattan, Greg Young, host of the popular NYC history podcast the Bowery Boys, isn't a fan. He thinks the most thronging skyline in the U.S. is totally bereft of the artistry that made it so interesting back in the day.
The notion of community is no longer as closely associated with the city skyline as it once was. Huge buildings cast dark, disassociative shadows. Young argues that the silhouette of Manhattan has become less of a feature and more of a byproduct of the city people that live in it, an object of admiration that exists apart from shared experience.
"The skyline has always been a place where people celebrate industry," he says.
Young's feelings on New York's present skyline are not so positive, however:
It's hard to dispute Young's sentiment. As New York's buildings climb higher, homogeny becomes inevitable for zoning, if not aesthetic, reasons. Architectural firms look to out-innovate one another by building higher, sleeker, shinier, and flashier buildings, but, when space is at a premium, math leads to rectangles. Developers end up charged with turning "the skyline into a multi-colored light show" rather than a reflection of a lifestyle.
"The real problem is of course the residential buildings that have no interest in blending with the skyline environment. Unfortunately I think we'll see more of this type in the near future."
The Bowery Boys will often hearken back to New York's progenitor skyscrapers — like the Chrysler Building and the Woolworth — which were born from architectural schools of thought that gave the city a native visual sheen.
One year after the Freedom Tower, however, Young isn't too optimistic. Maybe it's because of the ever-present scourge of negativity that envelopes New York as wintertime nears. Or maybe it's because the future of his city's skyline is fast nearing a giant light show.