'His Dark Materials' Is Going to Be a Television Show 
Time to start thinking about what your dæmon would be: Philip Pullman's series has been green-lit by BBC One.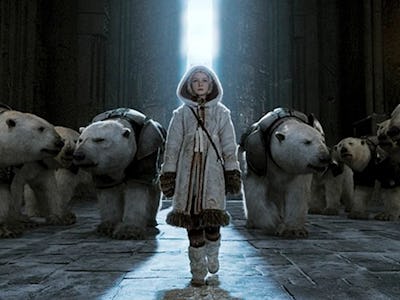 New Line Cinema
Those who haven't learned to let go of the gut-wrenching, worlds-spanning His Dark Materials series don't have to: BBC One has officially commissioned an eight-part series based on British author Philip Pullman's trilogy. The saga, Nietzche's Harry Potter if you will, is a philosophically sophisticated three-book journey with Lyra — a precocious child who teams up with fighting bears and battles rogue angels.
The series will be produced by Bad Wolf and New Line Cinemas. Bad Wolf is the production company of Julie Gardner and Jane Tranter — the BBC executives who relaunched Doctor Who — while New Line was behind the well intentioned but underwhelming first stab at Pullman's books, The Golden Compass. (Daniel Craig is pretty but has no business as Lord Asriel.)
Pullman has given his blessing to the series, while Tranter has said, "ever since they were first published these books have been a huge influence on so much of my thinking and imagination, and it is enormously inspiring to be now working on them for television adaption."
Loosely based on Milton's Paradise Lost, the series — marketed as children's books — have ranked in the top 10 banned books in the United States. Pullman has never cared. He will be in close tangent with the new television series and, according to The Guardian, is currently helping recruit a writer for the adaptation.
Fans will have to be satisfied with this news for a while — pre-production and casting will not begin until next year and BBC One has not set a date for the show's debut.
If you missed his short story on the origins of Mrs. Coulter, now is a good time as ever to go check out this reading by Bill Nighy.