Makers of This Modular Smart Watch Think It's 'Future Proof'
London based BLOCKS wearables designed a smart watch that has infinite programming possibilities. 
by Sam Blum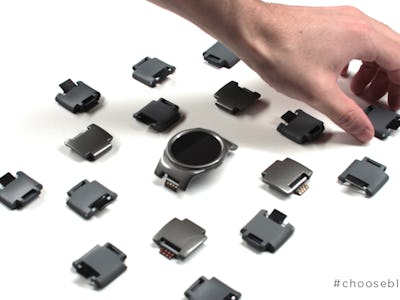 Just as the smartphone revolutionized the way human beings communicate, a new company in London believes it's designed a "smart watch" that might turn a skeptical public on to the concept of wearable technology.
Serge Didenko and Alireza Tahmaseb, co-founders of Blocks wearables, think that smart devices should be malleable in how they conform to user needs, which are more varied than an App store could ever account for.
"You would need to buy a new smart watch each year just to keep up with the evolving technology. This is contrary to how watches used to be," says Tahmaseb. She calls her company's Blocks Smart Watch "future proof," which is a bold way of marketing a product as impervious to innovation.
The watch's wrist band consists of different pieces of hardware, or "modules," that are all programmed to do different things based off a user's needs. The band connects with the watch face, which contains normal smart watch functions like phone notification, activity tracking, and voice control.
Blocks is open-source and a developer could program his or her own functionality sequence within the watch's wrist band. So far, Blocks has designed five modules, including extra battery, GPS, a contactless payment module that will allow users to buy things with the tap of their watch, a heart rate monitoring module, and an "adventure module," which gives users readings of outdoor air pressure, temperature, and altitude. Blocks says another two are on the way.
While the Blocks smart watch hinges on hardware, rather than apps, Didenko still thinks his company might be onto something as groundbreaking as the iPhone.
"We believe that wearable devices must be an extension of ourselves — they ought to be personal to our own lifestyle and habits. Blocks smart watch allows its users to build a bespoke watch with no compromise in functionality."
Keeping in line with the notion of functionality, its makers emphasize the open-sourced nature of their platform.
"Any company or individual would be able to develop the hardware that goes inside each module," Didenko says.
Developing hardware isn't that easy though, and much of the small scale innovation today plays out in the realm of digital languages, but Blocks might squirm out unscathed, if only for its corporate alignment with Qualcomm, ARM, and Compal Electronics. Plus, Blocks recently crushed its Kickstarter.
Didenko wouldn't divulge on any of Blocks' future plans, but he's adamant that he and Tahmaseb are just trying "to build the best smartwatch on the planet."
Once the product finally hits the market in May 2016, they'll finally get to see if it holds up.