Full Refunds Offered for Broken PC Version of 'Batman: Arkham Knight'
Months after its release, the final installment of the popular 'Batman: Arkham' series remains an unplayable mess.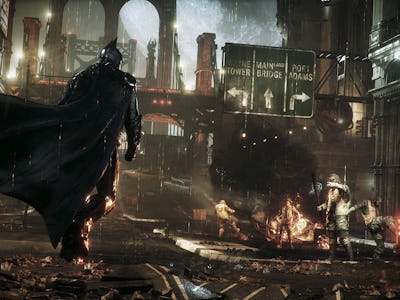 Rocksteady Studios
If you bought Batman: Arkham Knight for the PC and you're bitter about it, you can claim a refund from now until the end of 2015.
On Halloween night, Warner Bros. wrote on the game's Steam page that it's offering full refunds of Arkham Knight and the season pass (not separately).
If you're holding out hope that the game will correct itself somewhat, Warner Bros. will "continue to address the issues that we can fix and talk to you about the issues that we cannot fix." It's not a good sign in 2015 that a game needs an on-call representative just to ease through the frequent crashes and frame rate dips. It's giving me flashbacks to the Nintendo Power Line.
Batman: Arkham Knight may have been one of the best games of the summer and possibly of the year (until Fallout 4) but the PC version of the game fell flatter than Schwarzenegger's ice puns. Warner Bros. pulled Arkham Knight from Steam due to bugs and glitches that rendered the game unplayable. The game returned to Steam some four months later on October 28, still unplayable.
Causing further confusion even after this faux pas is whether or not the refunds are offered exclusively to Steam players. The statement was posted to Steam, and no other retailers have made any kind of statement regarding the five month-old game. I contacted Warner Bros. Interactive for clarification and will update as soon as I learn more.