Bradley Cooper Bombs and Mars Wins Again: This Weekend's Box Office Roundup
The top three movies from last weekend stayed the same, while every new release barely made an impact.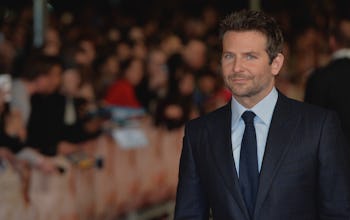 Getty Images
Chances are you skipped going to the movies this weekend to get sloshed at a Halloween party instead. The last thing you wanted to do was go see Bradley Cooper whining about how hard it is to be a London chef or Sandra Bullock running a Bolivian presidential campaign or boy scouts killing zombies. This weekend was the deep breath before 007 hits next weekend. Here's what happened at the box office.
What Won: The Martian
It's fascinating that a movie topping the box office for the fourth time in five weeks is such a big surprise. The outlier status of The Martian goes to show that Hollywood measures success by single weekend hauls instead of the sort of longevity the Ridley Scott and Matt Damon crowdpleaser is showing. Even more fascinating about The Martian is its relative total so far when compared to similar year-end sci-fi space dramas. The movie pulled in $15.7 million in its fourth week of release and $11.4 million in its fifth week of release. Compare that to the $20.1 million and $12.8 million Gravity took in during its fourth and fifth weeks respectively. The Martian is being touted as a breakthrough hit, but its totals are consistently below what that Sandra Bullock movie did two years back. It pays to have little to no competition at the box office. Still, The Martian is about $5 million behind Interstellar's total domestic gross. That $5 million will also make it Ridley Scott's most profitable movie as well.
What Was Disappointing: Burnt
Bradley Cooper isn't having a good 2015. Gone are the cash-register days of 2014, with American Sniper and Guardians of the Galaxy. His reteaming with Jennifer Lawrence in Danish director Susanne Bier's Serena was dumped into theaters in March of this year and inched to an embarrassing $176,391 gross. Then in May, the equally embarrassing and borderline racist Cameron Crowe movie Aloha sputtered into theaters on the back of a load of bad press and even worse reviews. Total domestic gross: Barely $21 million. But Aloha's first weekend tally of $9.6 million was still able to beat out Burnt, the actor's new dramedy about the high-stress London culinary scene, which made only $5 million or so. Don't be too sad for Cooper; Joy, his newest re-teaming with Oscar darlings Lawrence and director David O. Russell, hits theaters in December.
What Was Surprising: The Top Three Movies at the Box Office
New top three movies, same as the old top three movies. You don't see that too much anymore. Congrats to Goosebumps for keeping the kids spooked over the Halloween weekend and to Bridge of Spies for keeping baby boomers reminiscing about the Iron Curtain. Chalk up the bland lineup to an overall lackluster weekend at the movies, which didn't see any new releases in the top four spots. It made for the worst-grossing weekend of the year, down 22.5 percent from last year, when the instantly forgettable horror movie Ouija finished at No. 1 with just over $10.5 million. Don't expect the slump to last. The new 007 movie is already breaking records in the UK, and audiences should show up in the kinds of droves that made the previous Bond movie, Skyfall, the highest grossing Bond movie ever.
What You Should Take a Chance On: The Last Witch Hunter
It's got 13th century beard ties; a well-dressed, bakery-owning warlock; hipster Wiccans; witch prisons; and Michael Caine. Oh, and don't forget Vin Diesel not behind the wheel of a car. You really can't go wrong.