ABC's 'Once Upon a Time' Will Hold Its First Fan Convention in 2016
Storybrooke is coming to the Chicago suburbs next spring.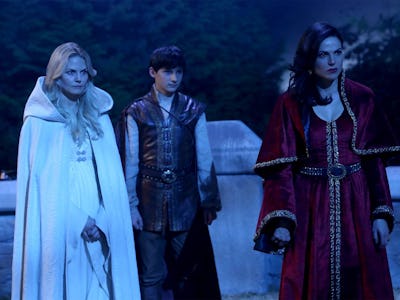 Facebook.com/OnceABC
San Diego and New York Comic-Con are approaching critical attendance mass, and hyper-specific cons dedicated to single movies and shows will be a regular thing soon. Star Trek, Supernatural, The Walking Dead, and even The Big Lebowski have dedicated fan conventions that travel across the country, and now ABC's modern fantasy series Once Upon a Time will have one too.
Creation Entertainment will open the doors to the first official Once Upon a Time convention to be held in Schaumburg, Illinois, from April 30 until May 1, 2016.
A colossal ratings hit for ABC (this season notwithstanding), Once Upon a Time is about a mysterious New England town inhabited by fairy tales who are stripped of their magical powers. The show was created by Lost writers Adam Horowitz and Edward Kitsis and premiered in 2011. The fifth season premiered this past September.
Already confirmed to appear are stars Lana Parrilla (Regina), Rebecca Mader (the Wicked Witch), Sean Maguire (Robin Hood), and Lee Arenberg (Grumpy).
Other conventions dedicated to the series include the London-based Storybrooke and Paris-based Fairy Tales, but Creation Entertainment's show will be the first officially sanctioned convention.