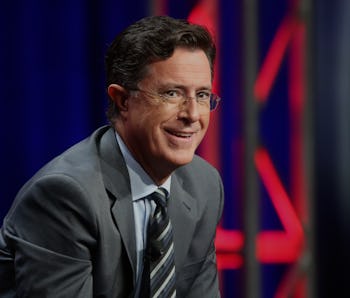 Entertainment
Stephen Colbert Predicts the Plot of 'The Force Awakens' From the Trailer
With his 'Star Wars' prognostications the host delivered the geekiest 'Late Show' monologue ever.
Getty Images
Star Wars fans the world over flipped out for the new trailer. It's the last bit of footage we'll see before the movie itself drops on December 18, and it got millions of people wondering what the saga's new installment would hold. One of them was noted fanboy Stephen Colbert, whose Late Show was off the air last week, which gave the host enough time to come up with his own theory of the closely guarded plot of The Force Awakens. Hilariously enough, it might just be spot-on.
In his incredibly geeky rant, Colbert lays out the narrative groundwork: The galaxy is in turmoil; good turns to evil and vice versa; and John Boyega's character Finn, a presumed storm trooper, stumbles into bringing balance to the Force, and must unite the galaxy in the face of bitter adversity.
As Colbert admits, he basically spoiled the movie for all of us. It was, obviously, a joke, but Colbert's assessment basically goes hand in hand with what other Star Wars fanboys think is up in director J.J. Abrams' movie.
Throughout all his bluster, Colbert captures the basic trajectory of the story and is vague enough to make a point about how all of the Star Wars mythology fits into the same basic structure. It's what's been keeping people like Colbert going back to these movies for decades. The Force is strong with him.