This Adorable 6-Year-Old's Heart Literally Beats Outside of Her Chest
Her mom is flooding Instagram with cuteness while raising money for life-saving surgery.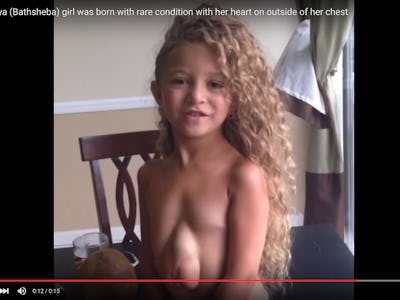 Six-year-old Virsaviya Borun was born in Russia with a rare condition by which her heart sits outside of her ribcage, protected only by her skin. She's survived against the odds so far, and her mother is now fundraising for a life-saving surgery at Boston Children's Hospital.
Virsaviya's heart literally beats out of her chest, and she's got the personality to match. She likes dancing, drawing, and ponies, she recently told NBC News. She also likes feeling her own heart, and when her mom touches her heart.
Doesn't matter your age or gender, this little girl is probably an order of magnitude more of a badass than you:
Fashion-forward mom Dari Borun has documented Virsaviya's life on Instagram. The complete adorableness of mother and daughter overwhelm the graphic nature of Virsaviya's medical condition.
One hundred percent guaranteed to touch your heart.