MIT Students Sit-In Over $13.5 Billion Fossil Fuels Endowment
The school's plan to reduce carbon emissions is embarrassingly unambitious.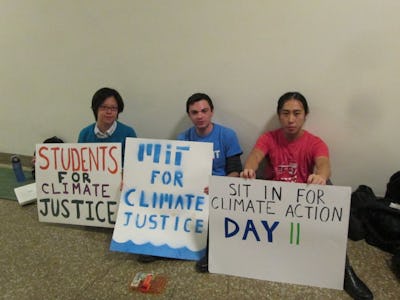 https://twitter.com/FossilFreeMIT
A group of students at the Massachusetts Institute of Techology has been sitting outside the office of University President L. Rafael Reif for eight days now, protesting a climate change plan that the group argues doesn't go far enough to scrub the prestigious school of its close ties to the fossil fuel industry.
The 3,000-member-strong Fossil Free MIT has been campaigning for MIT to get rid of its $13.5 billion endowment from fossil fuel companies such as BP, Shell, and Total since April 2013.
Announced by MIT on October 21, the five-year plan, called the Plan For Action on Climate Change, doesn't directly address the endowment, as the group emphasized in a guest column in MIT's online newspaper, The Tech:
"By choosing not to divest from fossil fuels — even from coal, tar sands, and climate-change-denying corporations — our administration has dismissed thousands of MIT voices."
In the plan, the university states that divesting the endowment would be counterproductive to its mission. (Not stated is that divestment also means waving goodbye to a large pile of money.)
"We believe that divestment — a dramatic public disengagement — is incompatible with the strategy of engagement with industry to solve problems that is at the heart of today's plan. Combatting climate change will require intense collaboration across the research community, industry and government."
In a statement released earlier this week, Reif acknowledged Fossil Free MIT's "willingness to work with us toward the shared goal of meaningful climate action." The students, however, think it's all talk.
They argue that the plan's promise to "reduce campus greenhouse gas emissions 32 percent by 2030" isn't enough to restrict temperature increases to below 2 degrees Celsius, the widely accepted "danger limit." Relative to the goals set by other schools such as Yale (43 percent by 2020) and Duke (100 percent by 2024), a 32 percent reduction is embarrassingly unambitious.