The Nissan IDS Concept Self-Driving Car Is a Green Entertainment System
Revealed at the Tokyo Motor Show, likely won't be available until 2020.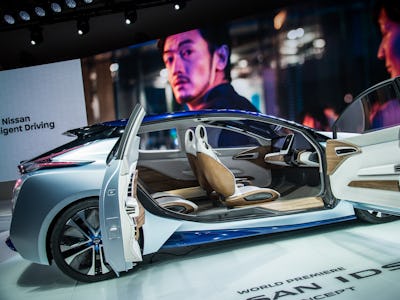 Nissan
While Google and Tesla are busy building cars that can drive themselves, Nissan is conceptualizing what the ideal automated vehicle may look like. The Japanese automaker revealed its IDS Concept on October 27 at the Tokyo Motor Show, and it looks equal parts car and entertainment system.
Because it's currently only an idea, Nissan has full reign to go nuts with accessories and capabilities, but the IDS Concept looks mostly feasible, especially with the company's self-driving goal of 2020, according to CEO Carlos Ghosn. The IDS would come with autonomous and manual driving modes. In addition, the ID would be an electric vehicle, designed with long-distance driving in mind. It would emit no CO2 emissions. It's even got a lightweight carbon fiber body to make it more aerodynamic and efficient on the road.
The specs match with Executive Vice President Hideyuki Sakamoto's comments from June:
"Our zero emission strategy centers on EVs. We are pursuing improved electric powertrain technologies, such as motors, batteries and inverters, which will enable us to mass produce and market EVs that equal or surpass the convenience of gasoline-powered cars."
Again, the IDS is not near production. It's simply Nissan's vision. That vision, though, is very much focused on user experience. For instance, the car could drive itself without you in it. That means real self-parking and, apparently, valet-like service in your driveway. When you're not driving, multimedia and social networks pop up on the dashboard. Seats pivot slightly to face each other to enhance conversation, too. Even the manual mode looks like a video game with a futuristic, race car-like steering wheel!
Nissan already has an electric car in its lineup: the Leaf. The IDS Concept would not likely replace the simpler green Leaf. It's very much a luxe vehicle, at least according to the digital rendering.
What's most interesting about the Nissan IDS Concept is its entertainment aspects. For now, Google, Tesla, and the like are promoting self-driving vehicles as safer and more efficient. Nissan's vehicle would have the same benefits, so why not make it flashy? We spend a lot of time in our cars and the passengers tend to enjoy the ride. The IDS Concept lets the driver have fun, too.