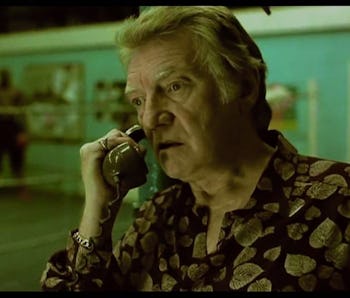 Science
What's the Best Way to Get Rid of a Body? 
Corpses are shockingly resilient, but hogs are equally hungry.
https://www.facebook.com/428483843944540/
At 'Inverse', we believe there are no stupid questions, but there are weird questions. What better time to answer them than Halloween?
For villains, getting rid of a corpse is a rite of passage. Recent Hollywood baddies, like Breaking Bad's Walter White and Scream Queens' Chanel Oberlin, have risen to the challenge with acid and refrigeration, but when it comes to efficiency and efficacy, nobody tops Snatch's Brick Top, who eschews Escobar's flames and Oberlin's freezers for a much more natural method: Pigs. In the spirit of Halloween, Inverse assessed how effective porcine digestion was as a dead body disposal method.
Pigs, Brick Top says, "will go through bone like butter." He's not wrong. While they're not specifically hungry for human flesh, they've been known to make meals of Sapiens, even offscreen. In 2012, an Oregon farmer's dentures were found along his hog enclosure, but his body was missing. Equally gruesome were the deaths at the hands of Robert Pickton, British Columbia's murderous pig farmer, who fed the bodies of his victims to his animals.
Whether real or onscreen, murderers looking to dispose of a body ultimately seek two things: speed and thoroughness. Pigs offer both. Like humans, pigs are equipped with digestive systems meant for breaking down carbs and protein — perfect for strips of muscle — as opposed to roughage, like multiply stomached cows and horses. According to the CDC, the average American man is 5 feet, 9 inches and houses about 195.5 pounds of flesh and bone. For hungry pigs, that's a week, maybe a week and a half of lunches.
Naturally, a pig's capacity to eat flesh quickly depends on its sex and age class. According to Homestead Organics, a Canadian agriculture development agency, fully grown boars don't eat nearly as much as lactating sows, which can eat 10-14 pounds of "sow feed" in one sitting.
The company points out that hog food is traditionally cooked and served to pigs wet in order to make it more palatable, but pouring boiling water, milk, or whey over the food will do the trick in a pinch. It'd help, too, to cut the body up into multiple pieces to make it easier for the pigs to tackle. Assuming they're hungry enough to fill themselves to max capacity (starving them would help), 14 lactating sows would be enough to disappear a grown man in an hour or two.
If you're being really thorough — which, if you're trying to surreptitiously get rid of a body, you definitely should be — it's key to get rid of the indigestible bits, preferably before the pigs attempt to digest them. As Brick Top points out, "You gotta shave the heads of your victims, and pull the teeth out for the sake of the piggies' digestion. You could do this afterwards, of course, but you don't want to go sievin' through pig shit, now do you?"
When it comes to making a corpse disappear, pigs can do what flames, chemical pits, and deep sea drownings can't — and fast. Of course, there's the difficulty of acquiring 14 starving lactating sows, but if you're planning on murdering someone, that might be among the lesser logistical hurdles.