Why Are Deadly Herbal Sex Supplements So Easy to Buy?
"Herbal Viagra" can land former NBA stars in the ER, but it looks like it's in bodegas to stay.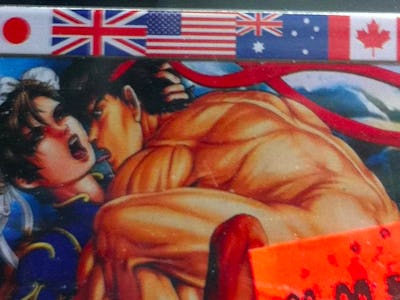 Lamar Odom's brief coma didn't put bodega drugs back in the news because they were already there. A rash of hospitalizations related to K2, synthetic marijuana, over the summer kept reporters in front of busy emergency departments. While Odom bought his tabs of Reload straight from The Love Ranch, he wouldn't have had trouble finding them anywhere else. That's because sex supplements are classified as dietary supplements, not drugs, so they can slip out of the FDA's chokehold and pack a powerful punch.
In New York City, individually packed pills like Reload, Hard Wang, and Power Tiger-X are available in bodegas from Hell's Kitchen to Bed Stuy for $10 to $15. The "Scientifically Formulated and Clinically Proven" X Pulse 1300 Premium promises three to five days of "rock solid erection." Similarly, Ginseng Red 2000 offers up to a week of "long lasting erections" fueled by ingredients derived from "the Mysterious Tibet Formula and secret traditional Chinese medicine which is only used in old palace." When asked about these supplements, most bodega staff shrug.
"I don't know if they're allowed," one deli owner in Chinatown told Inverse. "I've heard of them, but I don't know what it is. That guy took them, right?"
Right.
The FDA is fully aware of the drugs' ubiquity — and the danger they pose — but outlawing them hasn't been easy because ingredient lists are constantly in flux and frequently incomplete. In the days following Odom's collapse, the FDA issued a rash of public alerts, raising concerns about "hidden ingredients" found in the supposedly "all-natural" tablets. Most ingredient lists report herbs like Panax ginseng, a Chinese remedy for erectile dysfunction, and Semen Ziziphi Spinosae, which can help treat insomnia and anxiety. What they don't admit to is occasionally including pharmaceuticals like sildenafil and tadalafil, the active ingredients in Viagra and Cialis. If these undeclared drugs are taken improperly — say, by men taking nitrate-based prescription pills for heart disease or blood pressure — the combination of medications could end in a potentially deadly drop in blood pressure.
The FDA classifies sexual enhancement pills as "Tainted Products Marketed as Dietary Supplements," not drugs. Legal dietary supplements should only contain minerals, vitamins, or "other dietary ingredients" and don't have to be approved by the FDA before they hit deli shelves. The burden of safety falls to the drug manufacturers and distributors, who are simply expected to comply with the FDA's current Good Manufacturing Processes.
It's not exactly reassuring, considering that the distributors behind the drugs can be just as shady as the drugs themselves. Overseas manufacturers have been known to elude the FDA with fly-by-night websites and fold when pursued. Occasionally, the FDA succeeds in forcing distributors like Hardmenstore.com (no, we're not linking to that) to issue a recall on Viagra-tainted pills, but cases like this are few and far between.
The long and short of it is that the most effective pills probably contain illegal ingredients and the less effective pills probably don't. If a product works, it's all the more reason not to take it.
Despite high-profile overdose cases like Odom's, herbal sex supplements probably won't leave deli shelves, at least not unless the Dietary Supplement Health and Education Act of 1994, which classifies these drugs as dietary supplements, gets a sudden overhaul. Until then, the FDA can issue public warnings and accusations, but ultimately it doesn't bear any of the responsibility, as it reminds users on its website:
"Remember, FDA cannot test all products on the market that contain potentially harmful hidden ingredients. Enforcement actions and consumer advisories for tainted products only cover a small fraction of the tainted over-the-counter products on the market."
Still, when it comes to herbal sex supplements, best to use your head. In no universe does a description like "Several kinds of precious herbs in Tibet tableland of 4,000 meters are used in our herbal capsule" ever translate "approved after a battery of trials." Sometimes the worst drugs are the ones you can buy under the watchful eye of security cameras.