BroadwayHD Wants to Be Netflix for Musicals
It won't replace the original, just make it more accessible.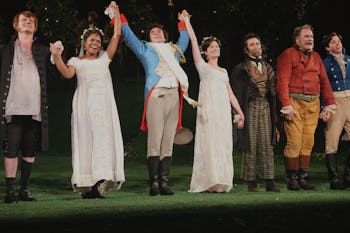 Michael Loccisano/Getty Images
The live Broadway experience is coming to your computer and smartphone via a new streaming service BroadwayHD that launched today with a variety of plays and musicals that have already aired on television or in theaters.
Available for $14.99 a month or $169.99 a year, the app is compatible with Apple TV (via airplay), as well as mobile devices and desktop computers.
Currently, there are over 120 productions available. Most of them, said co-founder Bonnie Comley, are older performances, as the library is made up of many BBC, WNET-TV in New York, and Broadway Worldwide shows: "A lot of it is classic archival pieces, but then we start layering in the new things and go out and start shooting new shows."
BroadwayHD hopes to separate itself from services like iTunes and Google Play with its opportunity for streaming — instead of purchase. And although Netflix has plays available to stream, BroadwayHD, as a specialty platform, wants to make its catalog much more extensive than its potential competitors'. "We're looking for this to be the landing place," Comley says.
The site's other major obstacle is convincing people that online-viewing can suffice when attending a live play is not possible. As the other co-founder Stewart F. Lane said, "Hopefully it will whet your appetite to go see it live."
Just as Netflix can't really explace the experience of enjoying a jumbo popcorn in front of a massive theater screen, BroadwayHD doesn't plan on becoming the norm for musical-and-play-consumption. It is, however, a great opportunity for viewing for somebody who cannot afford a ticket or doesn't live in a major theater city like New York or London.
"This is part of an evolution," Lane says.