The Coolest Tech and Science Costumes at the Best Dog Costume Parade Ever
Let's go _bark_ to the future.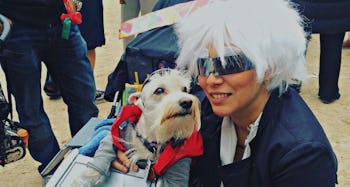 Instagram
Another year, another round of incredible dog disguises at the annual Tompkins Square Park Halloween Dog Parade in New York. This year, there were plenty of tech and science-related pop culture costumes that furry friends galore dressed up as. Here are just a few of our favorite pooches from what is arguably the best parade in the ever.
First up, this pup channeled the streaming tech giant Netflix with a cleverly compiled "Netflix & chill" styled costume.
This little arctic explorer was dressed up as a polar bear, complete with an ice floe and a penguin pal.
There's no losing this Google Street View pooch.
Definitely one of the most popular costumes of the day were dino dogs, who took a giant, prehistoric leaf from the not-so-scientific Jurassic World/Park craze from earlier this summer.
Speaking of not-quite-scientific flicks, Slimer from Ghostbusters showed up to the park, too.
Next up, this rocket pooch and its owners looked like they were ready to blast off to Mars.
But, great Scott, the absolute best dog costumes we saw at the furry celebration were all the variations on Back to the Future… or should we say: Bark to the Future?
We can't help but feel there was a missed opportunity for Doc Dog Emmett Brown to make an appearance, but we're definitely still fans of all these Marty McFly costumes floating around.
Here's to Halloween and excuses to dress our (very patient) furry friends up as our favorite science-themed characters.