Even in All-New, All-Different Marvel the New 'Punisher' Remains the Same
The Marvel Universe may be reshuffling, but Frank Castle is still just as we like him.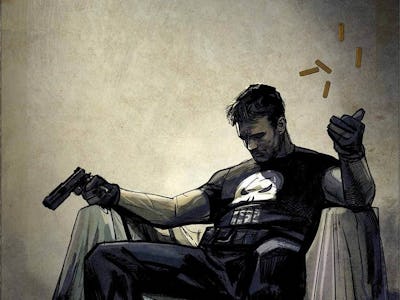 There have been two movies based on Marvel's vigilante psychopathic Second Amendment abuser the Punisher, but next spring he'll be fully realized. The second season of Marvel's Daredevil will have Walking Dead alum Jon Bernthal flesh out the role in what is probably Marvel's coolest casting choice since Robert Downey Jr. as Iron Man.
But Marvel wouldn't be who they are without comics. Amidst Marvel's "All-New, All-Different" era, the publisher is bringing in the Punisher into the catalog with an all new series from writer Becky Cloonan (DC's Gotham Academy) and artist Steve Dillon (Punisher MAX and Preacher).
True to Punisher's position as the antithesis of the rest of the Marvel Universe, he's not changing one bit.
"The Punisher is such a layered character, and he definitely falls waaaay outside of the realm of 'good guy,'" Cloonan said in an interview with ComicBook. "He does bad things for good reasons, and we are constantly left wondering if the ends justify the means. Chances are if the Punisher is coming after you, you've got no one to blame but yourself. If you are a criminal, the Punisher is basically Jason Voorhees."
That's the Punisher. Always has been and always will be. But one thing that is changing is his environment, which Cloonan only alluded to: "Things are going to start out in a familiar enough place, but soon the Punisher is going to find himself in an unfamiliar environment without a lot of the things he usually relies on. We are going to strip away some of his layers, and push him right to the limit. I want to see how far he'll go to accomplish his goals."
The most recent run of Punisher was the 10th volume of The Punisher, written by Nathan Edmondson with illustrations by Mitch Gerads. It ran from February 2014 until this past July.