Witch Hunters and Tech Gurus: This Weekend's Box Office Predictions
'Steve Jobs' opens wide and Vin Diesel hunts witches. Which whiz will reign supreme?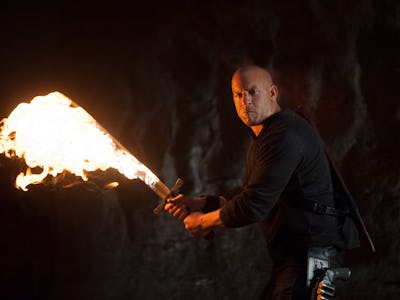 Lionsgate
Who's ready for some movies about tech geniuses and ghosts? This weekend's box office pickings are a crapshoot, and the new releases could fall anywhere. It'll all depend on how audiences are feeling. Will they be into Oscar buzz or getting spooked by scary movies? Or will they just want to see Vin Diesel rock a jungly beard? It is truly one of history's greatest mysteries, but here's how we think it'll shake out.
What Will Win: Steve Jobs
We're big fans of director Danny Boyle and screenwriter Aaron Sorkin's unorthodox biopic of Steve Jobs with Michael Fassbender in the title role. After a few weeks of limited release, having pulled in more than $2 million already, the movie gets a nationwide release this weekend. Is a wide audience willing to "think different?" The movie has positive buzz after rounding the festival circuit earlier this year, and it should attract Apple fanboys and Oscar season audiences alike. Look for Fassbender's dad jeans to make about $20 million.
What Will Disappoint: Paranormal Activity: The Ghost Dimension
Even a week before Halloween, horror movies can seem stale. Since the third installment in 2011, the once surefire Paranormal Activity franchise has steadily declined in quality and box office grosses. Where once the ultra low budget movies broke $100 million with a new installment basically every year, the series now sputters to somewhere in and around $30 million. Horror completists will see The Ghost Dimension, good for maybe $10 million this weekend, but most will find the movie in its inevitable final resting place: Netflix.
What Will Surprise People: The Last Witch Hunter
Is Vin Diesel a movie star? Like a real movie star? Does he even exist if he isn't grumbling dialogue behind the wheel of a car speeding through buildings in Dubai? The movie that will try to answer that question is The Last Witch Hunter, Diesel's new non-Fast & Furious movie. What's it about? Well, it's right there in the title. Do you need anything more? Outside of Fast & Furious, Diesel's record has been a bit spotty. He said one line of dialogue in Guardians of the Galaxy, which did fine. Otherwise it's basically Riddick and a kids' movie called The Pacifier from 10 years ago. Audiences will be curious enough to see Diesel in a movie that doesn't involve cars if not only because there isn't much competition from other similarly mindless movies this weekend. We're thinking The Last Witch Hunter will ease into third place around the $15 million mark.
What's On the Horizon: Burnt
Does anybody know if this isn't just a feature length cut of that [Kitchen Confidential TV show](https://en.wikipedia.org/wiki/KitchenConfidential(TV_series) Bradley Cooper was in 10 years ago? This overly serious-looking movie about the allegedly sexy world of restaurateurs sports some big name talent, not only in Cooper but screenwriter Steven Knight. But its tone makes it seem like it'll be worth a laugh even though it isn't a comedy.