Finally, a Breakthrough in K-Pop Dance Teaching Technology
Get better faster with tech that tracks 15 of your joints in 3D.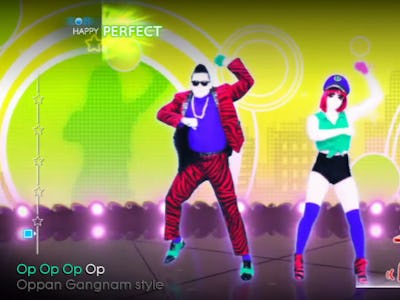 DanceGangnamStyle/YouTube
Researchers in Korea have made a very important discovery in the field of how to teach better dance moves.
The Intelligent Media Lab at Pohang University of Science and Technology took 27 k-pop dance songs and created 3D images of the dance moves that track movement at 15 joints of the professional dancer.
A learning dancer can then have a go and get real-time feedback on how closely their body position matches the expert's moves.
The darker lines on the dancer's body show where his body position needs some work.
If you think this sounds awfully similar to the popular Just Dance series of video games, you're not wrong. Those Ubisoft offerings use a camera to track a player's motion and judge them against what's being show on screen. There's even a k-pop version of the game, which makes sense given the level of interest both in Korea and elsewhere in imitating k-pop dance moves.
But the research group's software differentiates itself both because it can track your body in 3D (as opposed to just a silhouette) and in its precision. Its tracking error is less than two inches.
In Just Dance games, you can get away with crude, unattractive approximations of the dance moves and still earn a great score. But with the Intelligent Media Lab's software, you would actually have to learn how to dance.
The dance games of the future could be to Just Dance what Rocksmith is to Guitar Hero.
Then, maybe even you could take your dance moves from eclectic to electric.