The Campaign for the World's First Crowd-Funded Moon Rocket is Sputtering
Kristian von Bengtson, leader of Moonspike, is seeking almost $1 million to fund a moon rocket. 
by Sam Blum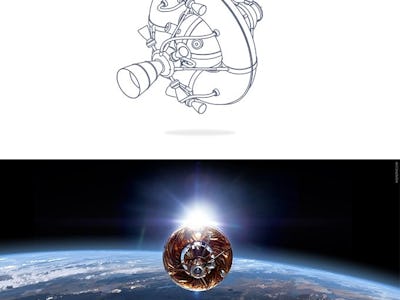 Space exploration has historically been the bailiwick of massive government agencies like NASA and Russia's RKA, but an upstart team of non-governmental rocket scientists based in London is trying to launch its own mission to the moon without any state funding.
Kristian von Bengtson, a co-founder of Moonspike, is watching the days count down on his Kickstarter fundraising campaign goal of $909,351, that if attained, could open up a "new era of open space access," where venture capital and the public have a shared stake in charting the universe.
But before a new era of privately funded exploration disrupts the aerospace industry, von Bengston needs to get his own project off the ground. It's raised just $113,870 of its $909,351 goal, as a November 1 deadline looms.
Even though the campaign hasn't necessarily generated a windfall, von Bengston still hopes that privately funded rockets and independent missions beyond the stratosphere will afford many people a window into science that's often cordoned off from public view.
Aerospace missions don't typically unfold before an audience, but von Bengtson and his team want to change that. "We think there is a value to inspire and let people get in depth knowledge of how an actual launch vehicle is designed, tested, built, and launched," he tells Inverse .
Now von Bengtson just has to market his idea: "The issue then becomes to present an angle that the public can relate to and find interesting," he says.
It seems natural that Moonspike would try to rouse interest from venture capitalists, who might be eager to pin their resources onto rocket ships, but von Bengtson says his team isn't ready for that step.
"There is a general mistrust at the moment for space projects that people believe are scams," von Bengtson says. He makes it clear however, that Moonspike is the real deal.
"Anyone who takes a close look at our project, feasibility study, and team history will know we are not [a scam], but I think it's a difficult time between space projects and the public."
Moonspike's first mission intends to thoughtfully seize on this notion of trust though, as von Bengtson and co-founder Chris Larmour, intend to launch the digital ephemera of all Kickstarter backers — whether it be personal photos, videos, or data — to the moon in what Moonspike calls a "digital payload."
Backers of Moonspike's Kickstarter will be the first humans to see their own mementos orbit the earth, and through the shared professional experiences of the Moonspike team — who've worked at NASA and Cophenhagen Suborbitals — it makes sense that the possibility of blasting memories into space could soon be seen as reality.
That's some real "open space access," when you think about it, even if financial impediments are currently getting in the way of the rocket's lift off.
When asked Moonspike's plans if fundraising goals aren't met, von Bengtson says there's no Plan B:
"So far, the Kickstarter is an all or nothing."