Some Genius 3D-Printed a Railgun That Fires Projectiles 559 mph
The Navy unveiled its electromagnetic pulse weapons this year, but a smart hobbyist can get pretty close.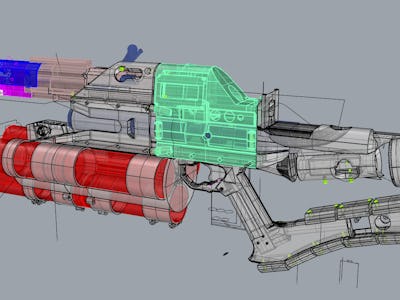 NSA_Listbot
Sick of waiting for the Navy to develop its own railgun technology available for the home defense enthusiast, an enterprising DIY'er has built his own electromagnetic pulse rifle with only a 3D printer and a trip to a well-stocked hardware store.
Known only as NSA_listbot, the designer has posted a series of pics showing the gun's construction step by step. Using capacitors to power the rifle instead of gun powder, the guts are wired together then housed inside a 3D-printed gun casing.
NSA_lisbot writes that the weapon is capable of firing "plated tungsten, aluminum, carbon and Teflon/plasma" at speeds up to 559 miles per hour, which, NineMSN reports, is about the cruising speed of an Airbus A380. That's not nearly as fast as the average bullet's 1,700 miles per hour, but it's plenty fast enough to do serious damage.
Like any home project, the gun's perfection was a matter of trial and error. Several test videos of its evolution have been posted to YouTube, with one high-speed projectile test already getting more than half a million views.
The Navy has been investing a lot of time and energy into developing its own railgun tech, showing off a prototype earlier this year.
Don't think that just any jerk spending a Sunday afternoon puttering around Home Depot can put this thing together. As TechTimes noted, whoever did this was basically a genius with an exceptional level of understanding on how to get the exact propulsion he wanted — and even vaporized a lot of aluminum getting there. Glass half-full: This might inspire a lot of public school kids to start paying better attention in science class.